AutoEV – Full road test review – Audi Q4 e-tron
The new Audi Q4 e-tron is a very focussed car.
It is Audi's take on parent company Volkswagen's MEB platform that we have already seen underpin the ID.3, ID.4, Skoda Enyaq and Cupra Born.
INTRODUCTION
Audi's 'e-tron' badging seems to be suffering an identity crisis. First of all, it was applied to a plug-in hybrid version of the A3 hatchback. Then we saw it applied to a stand-alone large SUV, this time as a model in its own right. Then we saw the letters 'GT' applied after it and attached to a low-slung 4 door grand tourer that had nothing to do with the SUV with whom it shared its name. And now, it's being prefixed by a 'Q' nomenclature to slot it into the hierarchy of SUVs that the Inglostadt firm makes. All very confusing.
Yet have no fear, as the new Audi Q4 e-tron is a very focussed car. It is Audi's take on parent company Volkswagen's MEB platform that we have already seen underpin the ID.3, ID.4, Skoda Enyaq and Cupra Born. And as if to further cement the importance of the car, Audi are predicting that it will become their second best-selling model globally.
Yet given our experience of the larger e-tron have been, well, a little lukewarm shall we say, does the smaller Q4 now signal Audi's intent at being a serious contender in what is a very important market sector?
Time to find out.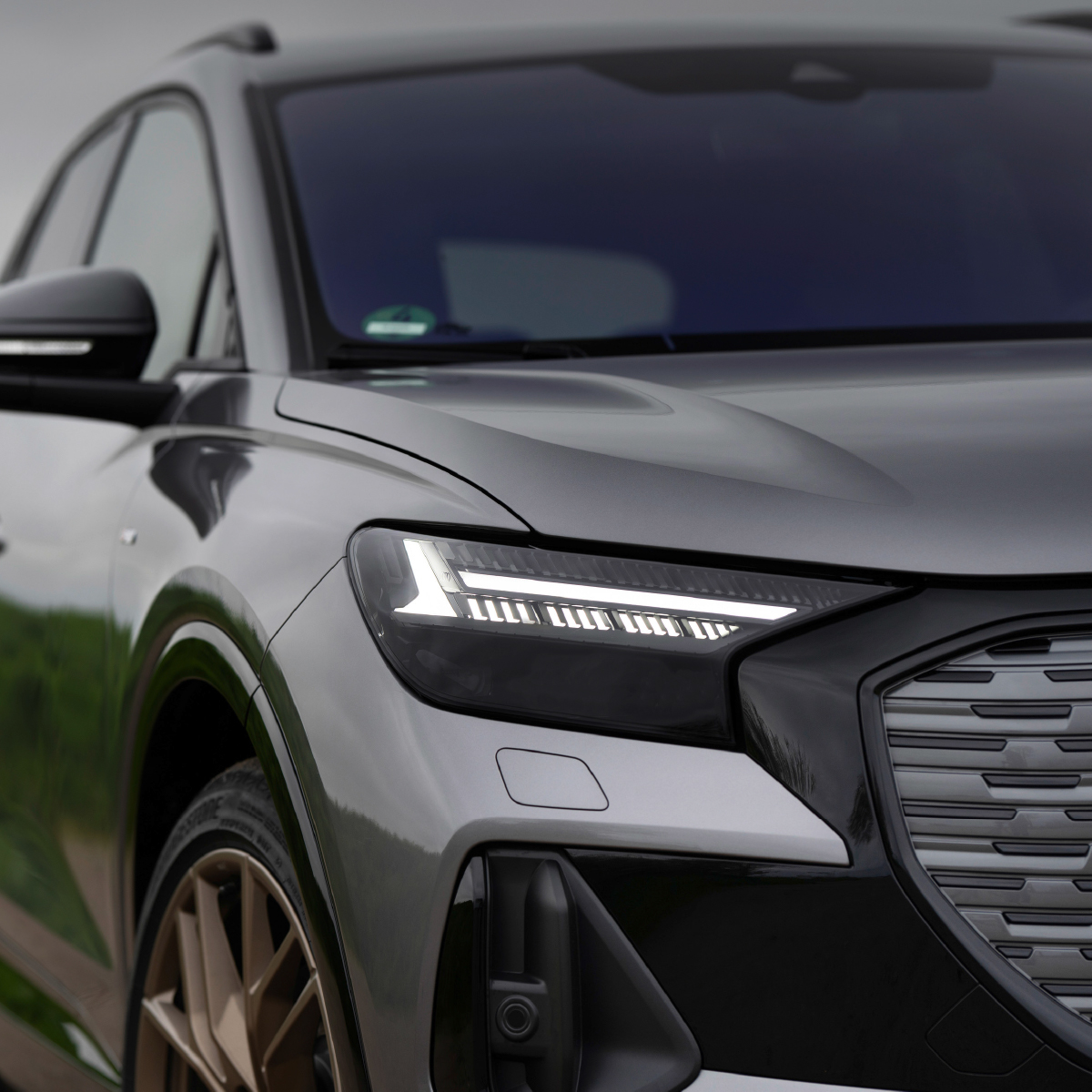 Technical spec
Model example: Q4 E-tron 40 Sport
Battery: 76.6kWh
Power: 201bhp
Torque: 229lb ft
0-62mph: 8.5sec
Top speed: 99mph
Energy efficiency: 3.6mpkWh
Range: 316 miles
Max. charge rate: 125kW
STYLING
There is no mistaking that the Q4 e-tron is anything but an Audi. Which means defining lines, a few well-placed creases, and a big grille (that isn't one) at the front, well proportioned, tight shut lines and distinctive lights, and nothing to frighten you. The optional Matrix LED headlamps of our test car just added to those handsome lines.
Around the side, it's easy to see the influences with the swollen wheel arches bringing it in line with the e-tron GT, and therefore in turn, the original ur quattro. Alloy wheels start at 19-inches and are available up to 21-inches. Our 'Sport' trim press car was fitted with the mid-ground optional 20-inch wheels which suited the car perfectly. They looked just right in the arches, and not comically large. Thankfully for the Q4, Audi has abandoned the rear view camera system that you can option on the larger e-tron, relying instead on good old-fashioned mirrored glass to see behind you. Radical.
At the rear, an integrated light bar ties the design in with the aforementioned GT and larger e-tron stablemates (and every other electric SUV) with a lower diffuser area all encased in silver plastic. All very Germanic, all very clean and precise, and all very Audi. You can also order your Q4 as a 'Sportback' which is Audi's take on the, frankly odd, trend for having a less practical version of a practical car. That being said, just like its larger sibling, Audi's styling department do seem to make the better job of these cars than those over at BMW and Mercedes-Benz.
PRACTICALITY
The Q4 e-tron has a decent amount of rear luggage capacity at 520 litres, opening up to 1,490 litres with the 60/40 rear seats folded down. Although oddly, if you went for the more rakish Sportback model it gets a bigger boot at 535 litres up to the rear parcel shelf. Anyway, this is still bigger than the Ford Mustang Mach-E and is following hard in the footsteps of its cousins the VW ID.4 and Skoda Enyaq as being one of the best electric SUVs for practicality.
One of the major benefits of working with a ground-up EV platform is the fact that you can package everything mechanical how you like it, and therefore give more accommodation to those inside. And you can really see that benefit in the Q4 which is very spacious in the rear. Like the other MEB platform cars, the external dimensions belie what space is inside, and you get plenty of it for sure. Lots of headroom, a nice flat floor, and legroom in abundance. The seats themselves are well-shaped and supportive, and you get two usb charging ports for the rear passenger's technology. You don't, however get a folding centre armrest and so the storage is limited to the reasonably sized rear door bins. You do also get a really convenient, and well-designed bottle holder at the top of all four doors.
It's a very commodious rear cabin in the Q4, although it does feel a little dark given Audi's love of the darker headlining colours, but it gives very little away in terms of space over the larger e-tron.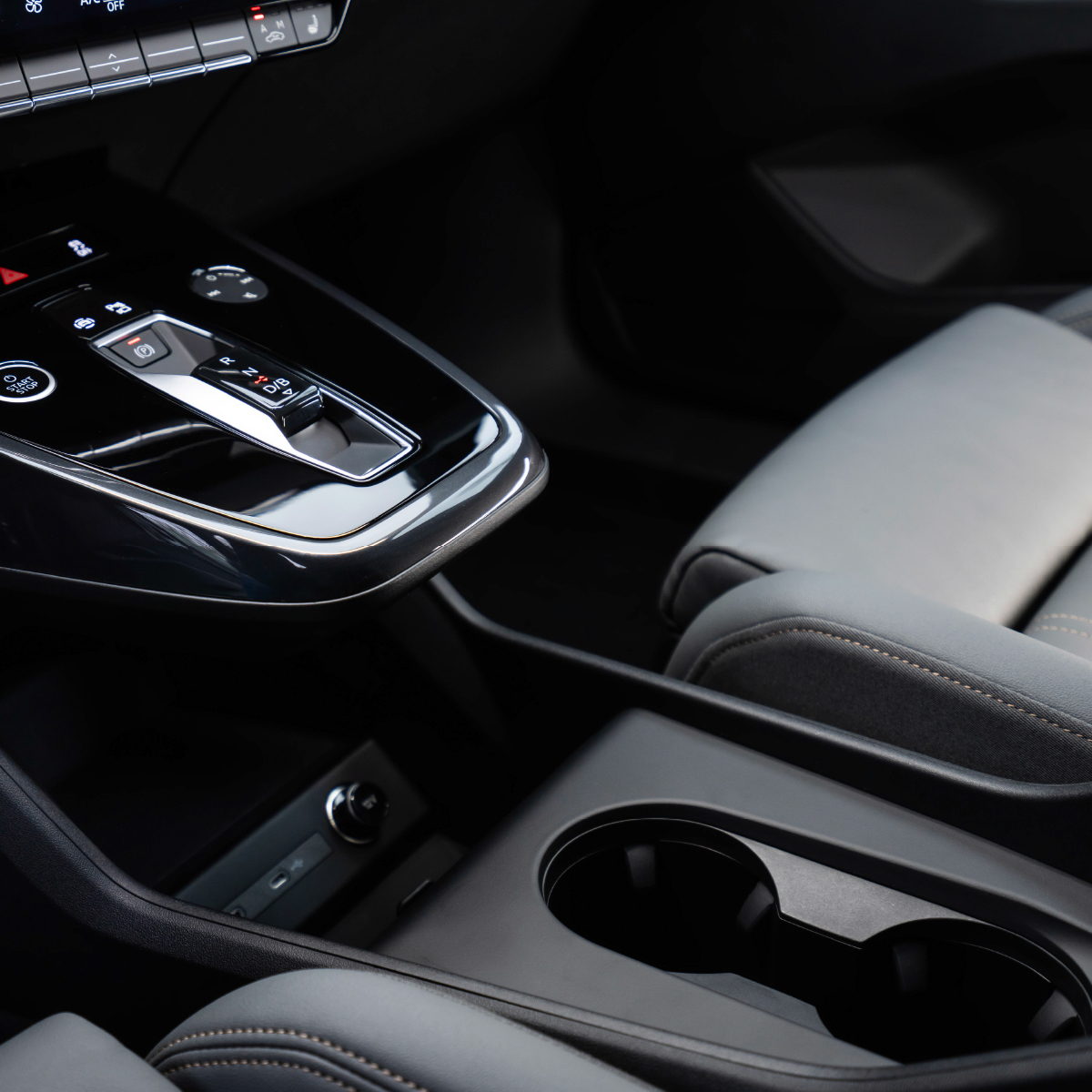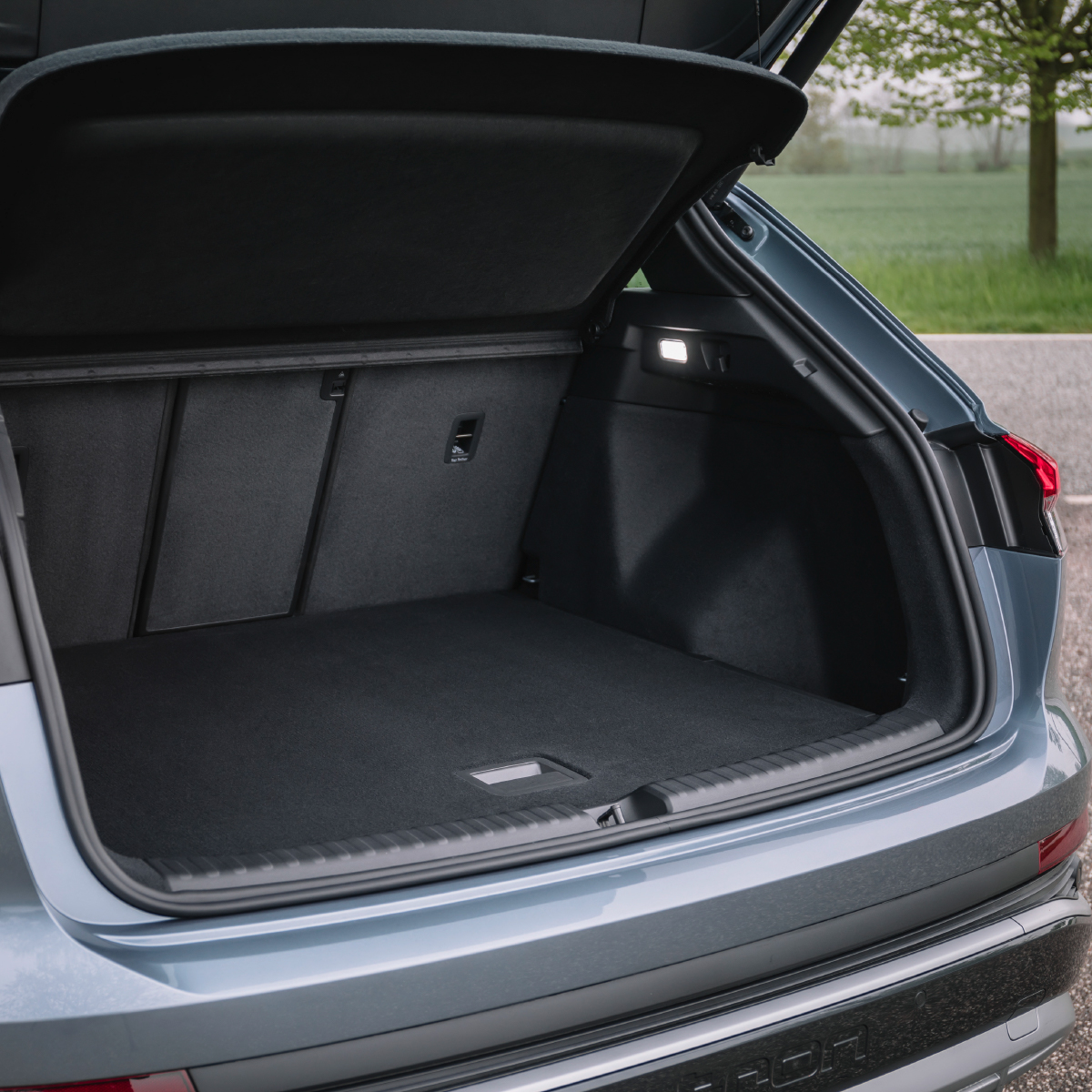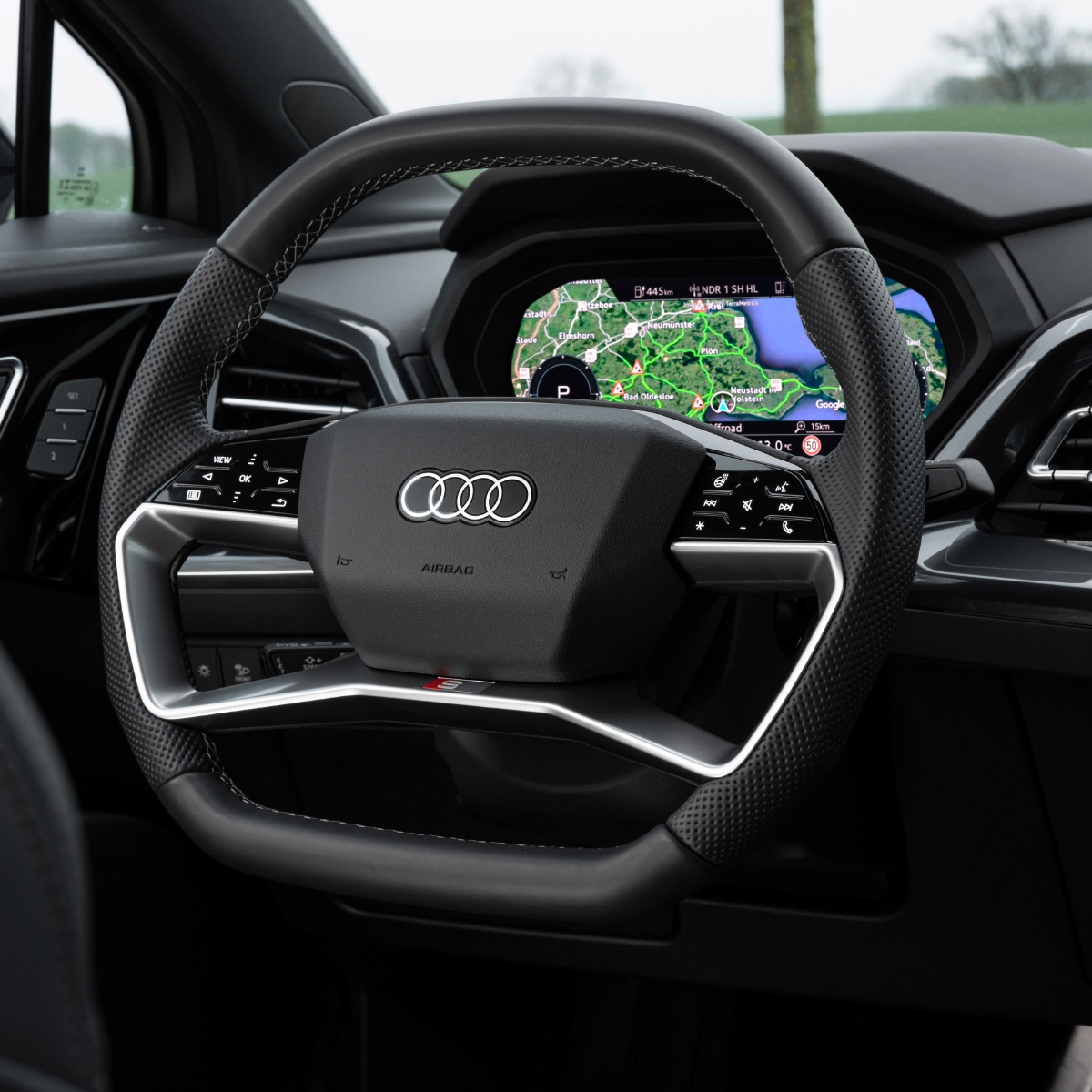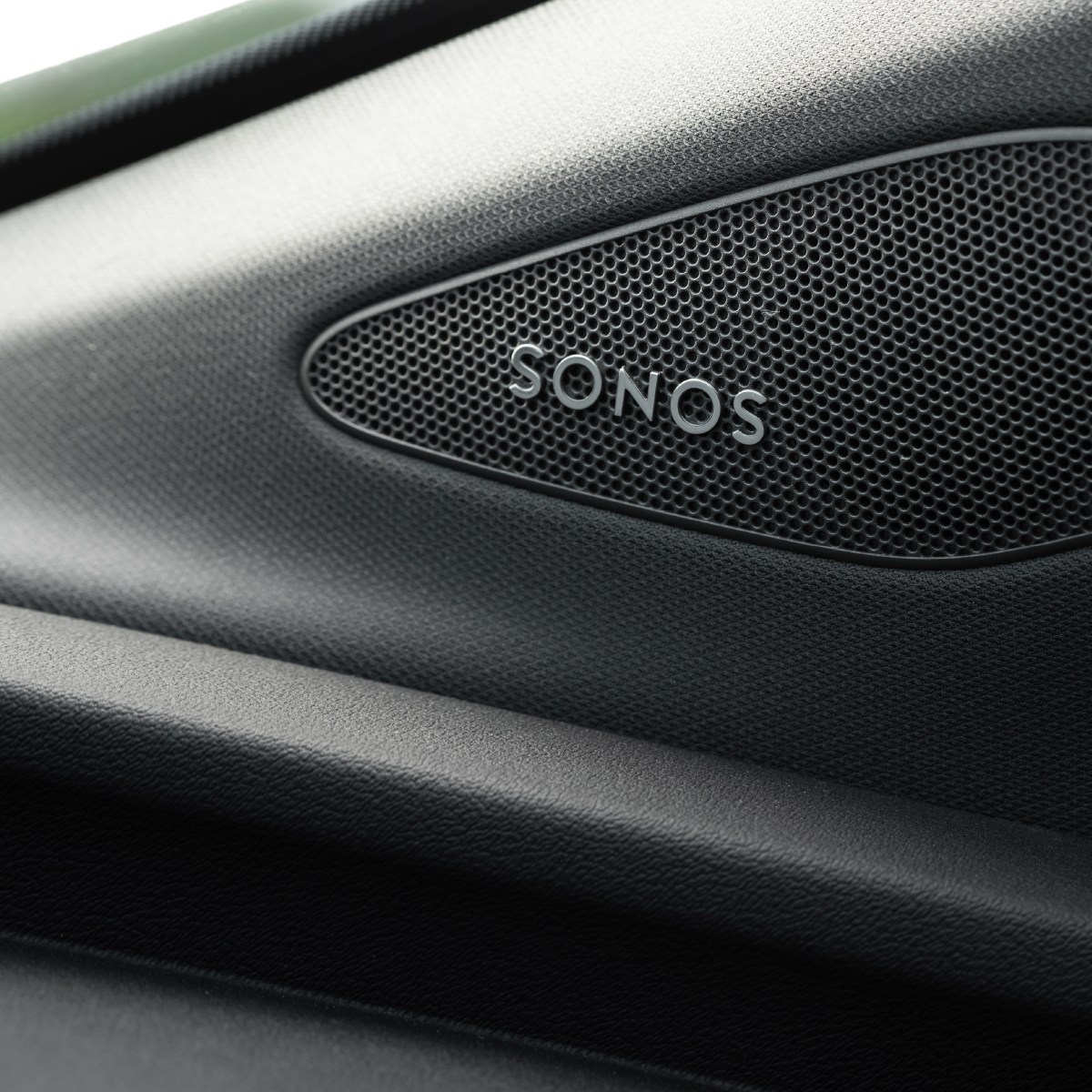 INTERIOR
Much like the exterior, there is a lot to like about the interior. Solidly built (albeit some of the plastics don't feel as premium as they should), spacious and comfortable. Our test car had the £285 option of having a steering wheel that was flat at both the bottom and top. Given how uncomfortable it was to hold, I'd suggest it was £285 misspent. The plastic paddles for the brake regeneration also feel a bit of a cop-out, and I'd have liked to have seen better quality metal ones fitted. And the spokes are fitted with these infernal touch-sensitive buttons that Volkswagen Group seem so keen to push onto us. Oddly, no other buttons in the Audi's cabin follow suit, and are all the better for it.
But it is well-equipped and features wireless Apple CarPlay and Android Auto, wireless charging, and a nice, clear infotainment screen which in itself is easy to use and sits well in your line of sight. And you do get physical heating and ventilation controls rather than having to search for them in some hidden menus. Audi's 'Virtual Cockpit' makes an appearance too, and the optional head-up display means the driver is kept focussed on the road ahead. This is a well thought out and beautifully designed driving environment.
The 'Sport' trim has only manual adjustment of the cloth-trimmed seats, but the trade-off is a seat that is well-shaped, supportive and has a lot of adjustment. Much like all other Audis, the interior works really well, and is stunningly built, but perhaps just lacking a little flair.
USABILITY
Like its siblings within the Volkswagen Group, there is a range of options available to you. There is an all-wheel drive variant of the car, the Q4 50 e-tron quattro which has a range of up to 298 miles. Lower down the range, and with just rear wheel drive, you get the choice of two battery sizes. First of all a 52kWh one that comes with a 170PS motor and gives a WLTP range of 208 miles in the Q4 35 e-tron. The larger, 77kWh battery with the 204PS motor and a range of up to 316 miles is badged Q4 40 e-tron and is the one we had on test. The smaller capacity battery will only take charging speeds of up to 100kW but the larger two can take up to 125kW, meaning the benchmark 10-80% charge is around 38 minutes.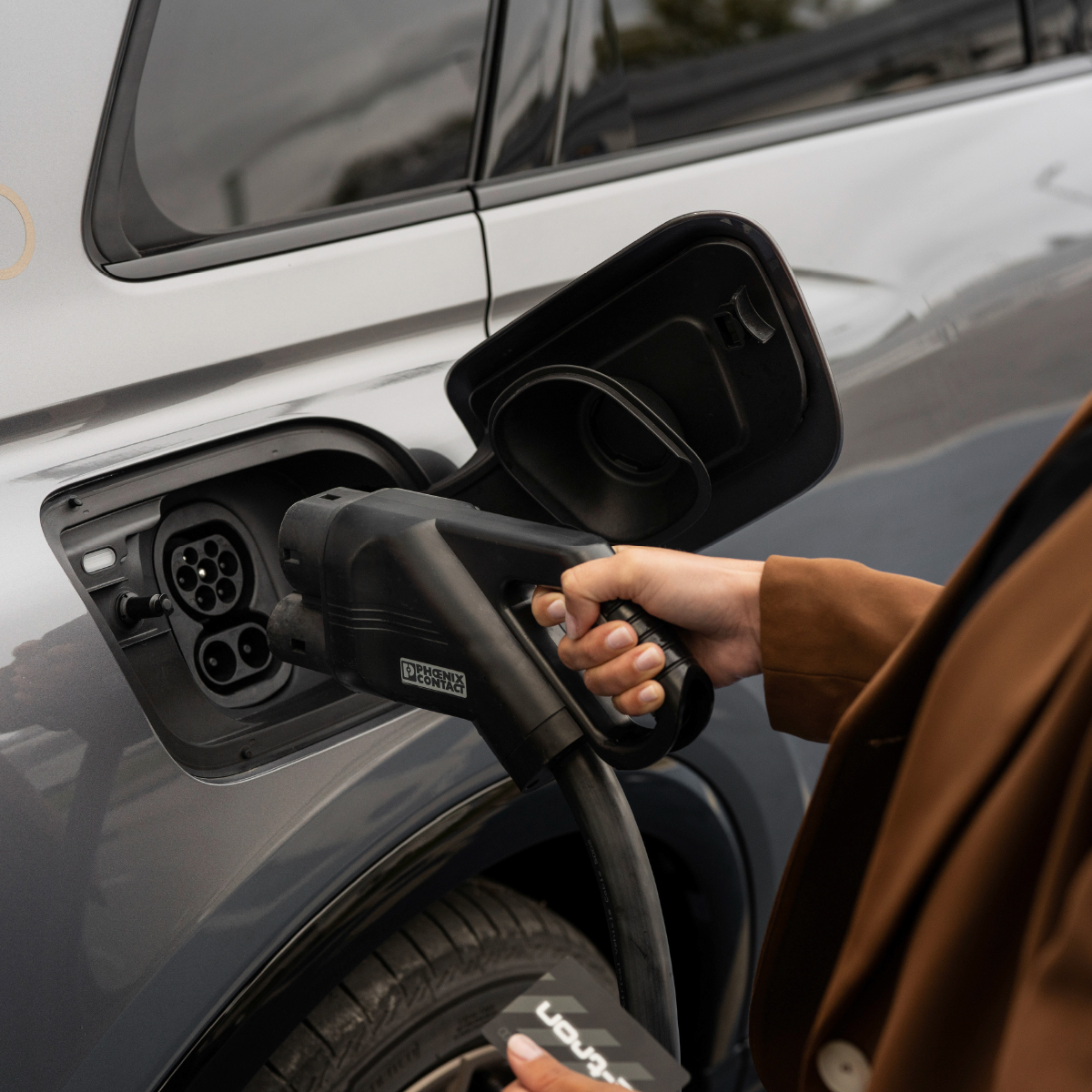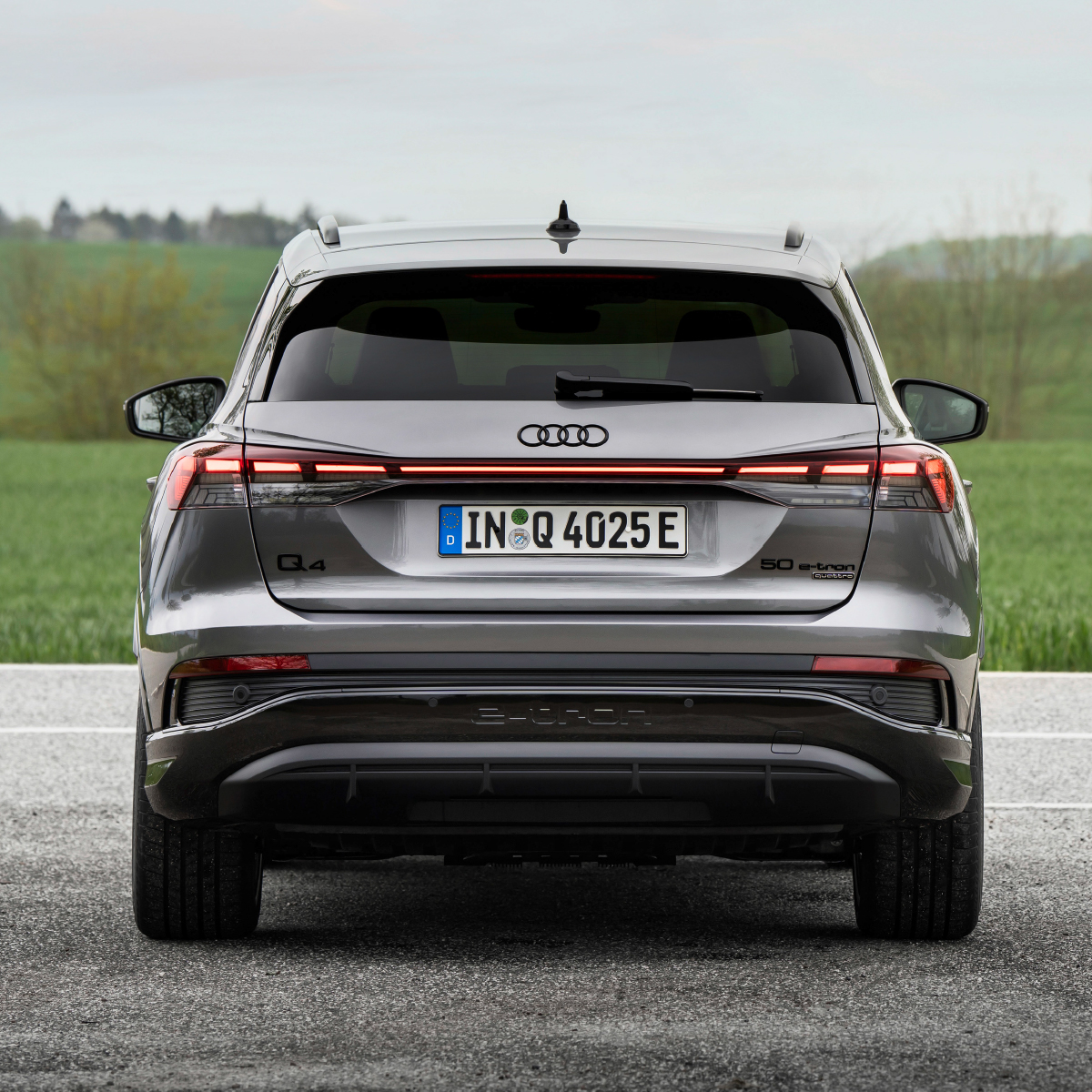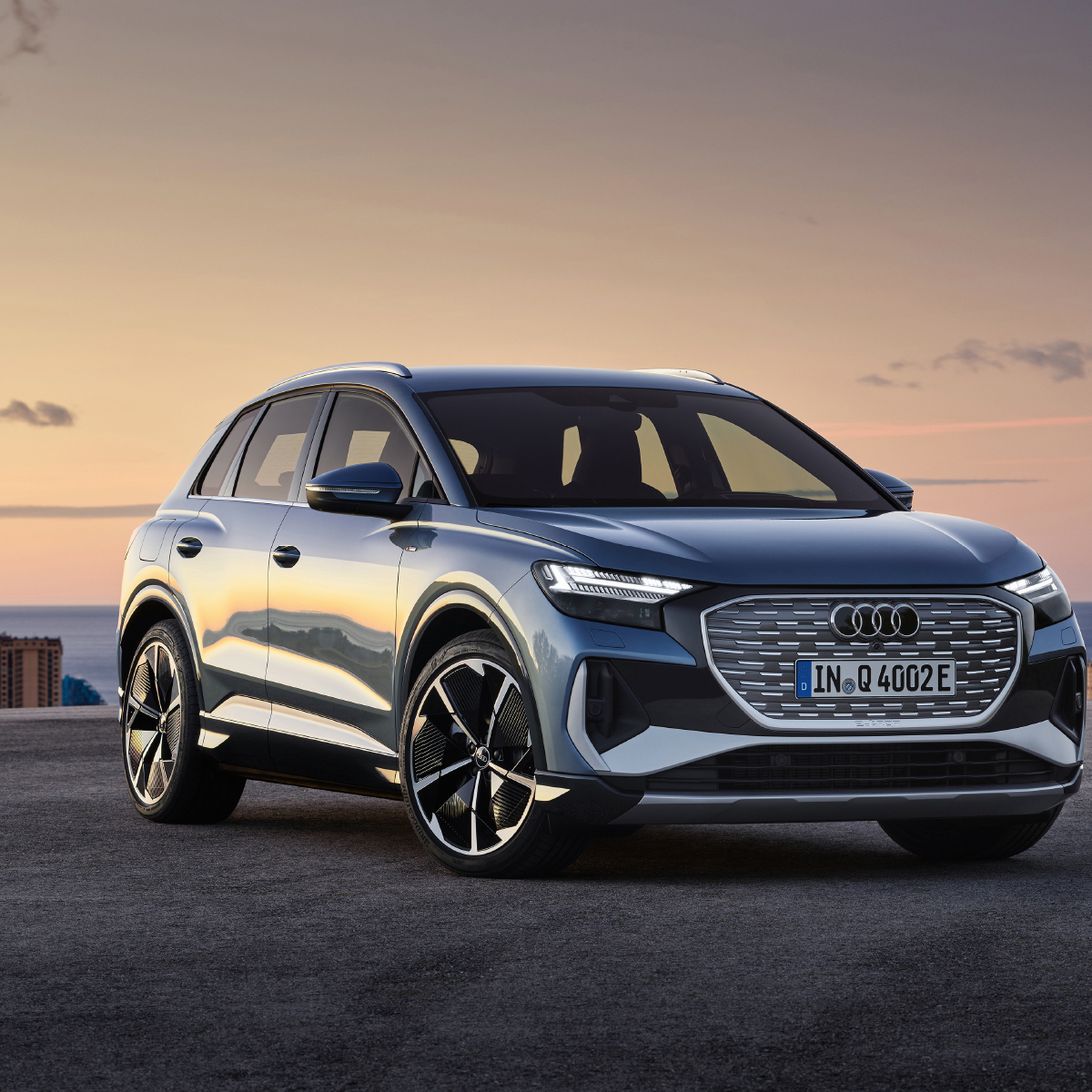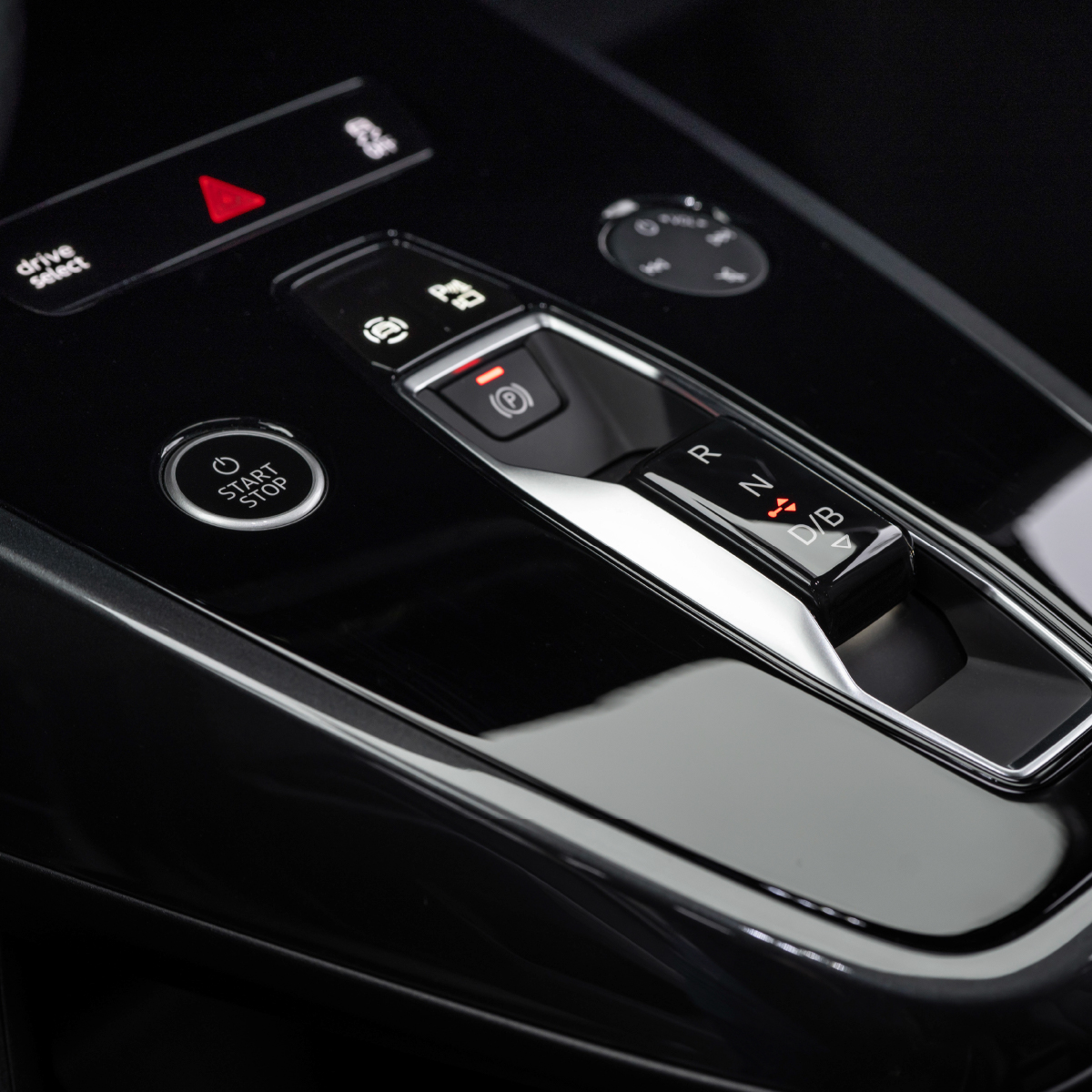 PERFORMANCE AND HANDLING
Just like the styling and interior, the drive of the Q4 e-tron brings no surprises. But nor does it disappoint. It is a very smooth car to drive, with only a rustle of wind noise from around the mirrors to contend with. There is also a reasonable amount of suspension noise on more broken surfaces or those scarred with expansion joints and drain covers, but as they aren't felt through the cabin, I'd suggest it was sound deadening (or lack of) that is at fault here, not the chassis's ability to isolate them.
Performance is as you'd expect from a relatively heavy car with just 204PS, that is to say far from quick. Which in the case of the Q4 is a good thing. Despite the drive heading towards the rear wheels, the car will lose front end grip if pushed along at a speed close to being 'enthusiastic'. Understeer is the prominent factor here, and whilst we continue to admonish these cars for not being sporty, two facts remain. First, if Audi are intent on calling the car 'Sport' then to keep any sporting pretensions from it is as misleading as a PPI salesman. Secondly, some of the car's main rivals such as the Mercedes-Benz EQA and Mustang Mach-E are more enjoyable to steer when the road stops being anything but arrow straight.
Aside from that, the Q4 e-tron acquits itself admirably in simply providing you and your family with a smooth and refined place in which to travel. It's easy to get a decent driving position, visibility is excellent, and the only blight for me in terms of this, was the slightly awkwardly shaped and uncomfortable (and thankfully optional) steering wheel. Otherwise, the car was simple and effective at what it was doing.
There are five settings in terms of drive modes, including an 'Individual' mode where you can tailor it to suit you. In all honestly, given the shortcomings in power and grip, I left it out of 'Dynamic' and let the car simply get on with the job of sorting itself out in the normal setting.
The brakes, much like the other cars on this platform, lacked an initial bite, but they didn't feel as wooden as the one's in the ID.4. You can, of course, dial in levels of regeneration via two wheel mounted paddles, and also by shifting the transmission selector into the 'B' setting.
In terms of where the Q4 e-tron feels comfortable, it is simply when going about the job of being mere transport. Like almost every other Audi, ask too much of it in terms of dynamics, and the shortcomings are all too evident. But as a dependable, smooth, quiet, comfortable family tool, then it is one of the best. Just don't go looking for any excitement.
PRICING
The Audi Q4 e-tron range starts at just over £41,000 and rises to just over £56,000 as standard. Of course, with options fitted (and not forgetting the premium for the 'Sportback' bodystyle) it would be very easy to get it far north of £60,000. You have the choice of 'Sport', 'S Line', 'Edition 1' and 'Vorsprung' trim levels within the range depending on your requirements and tastes. Our test car was a Q4 e-tron 40 'Spor', which has a starting price of just over £44,000 but was optioned up to £52,685 at time of test.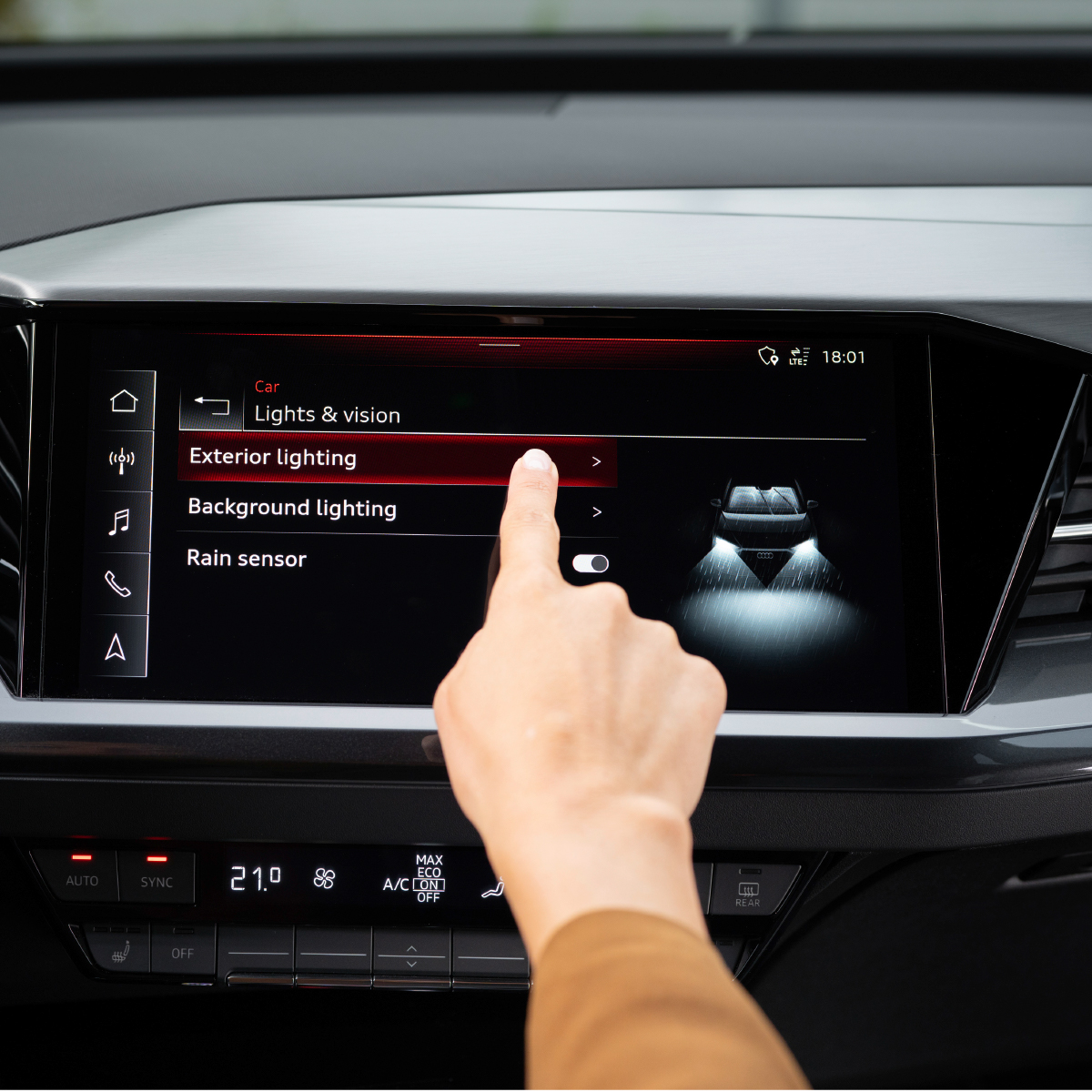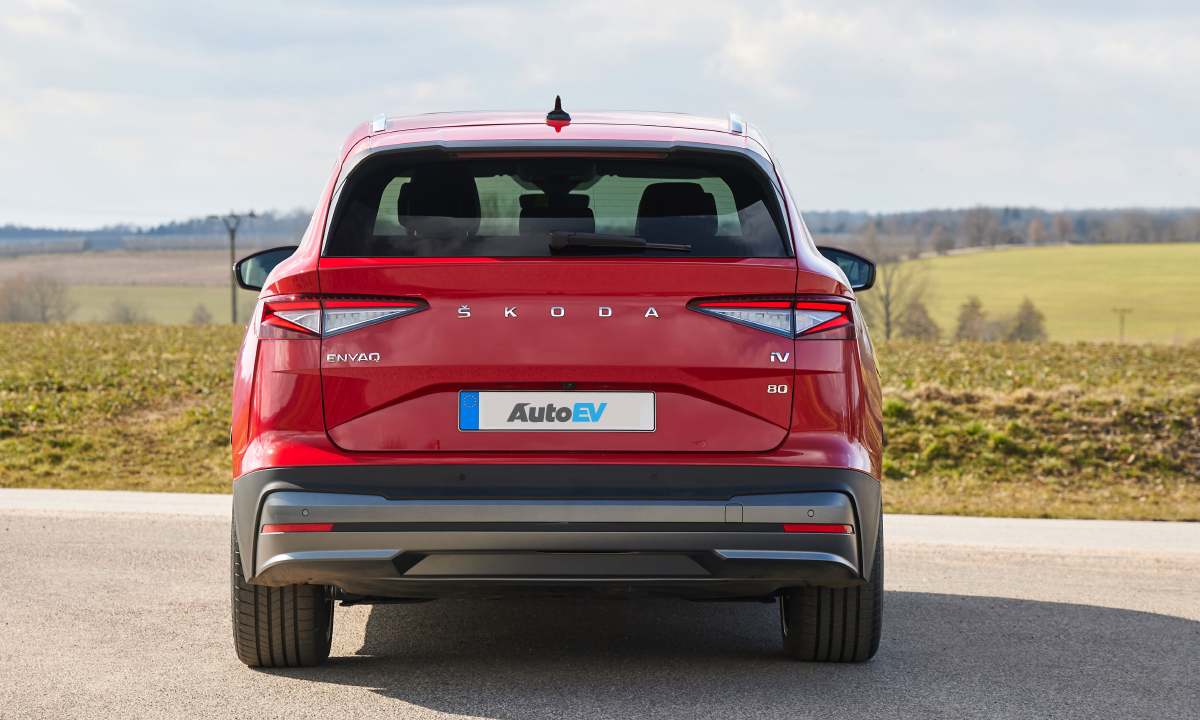 COMPETITION
The Q4 e-tron enters a market that is bustling with talent already, and there is even more to come. Main contenders come in the shape of the Mercedes-Benz EQA, Ford Mustang Mach-E and, of course, from within its own family with the Volkswagen ID.4 and Skoda Enyaq. It also must contend with the very desirable Hyundai Ioniq 5 and Kia EV6 who are very serious players in this sector. You also must consider Nissan's Ariya too.
Perhaps a little more left-field and harder to justify with its smaller cabin, lower range, but exemplary build quality and unrivalled refinement is the Lexus UX300e. Notable by their absence in this size of car, however, is BMW. However, their larger iX3 might be a considered contender if you were looking towards the top end of the Q4 e-tron range.
PRO's
We like:
Styling
Interior space
Build quality
CON's
We don't like:
Can get expensive depending on trim level
Handling
Interior styling plays it a bit safe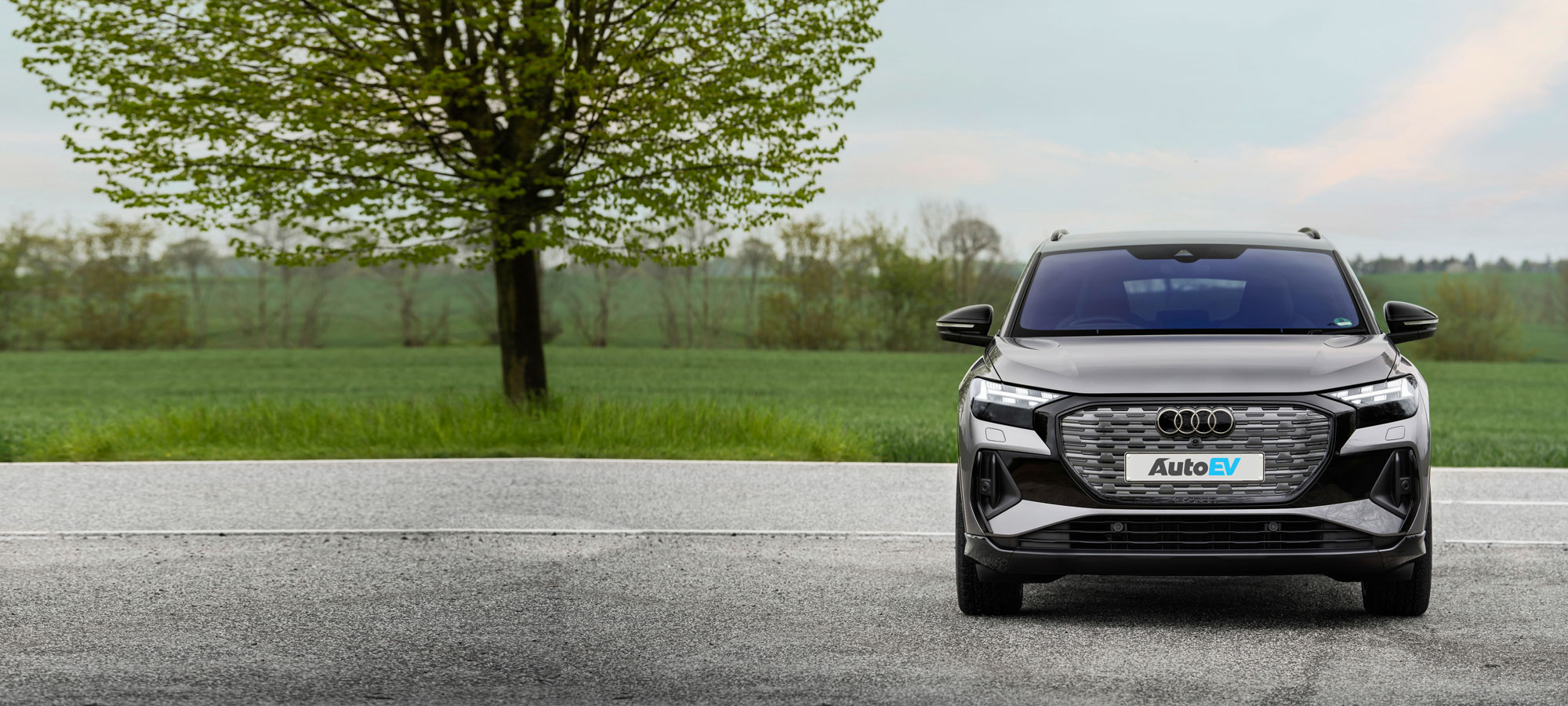 CONCLUSION
Let me start by saying that the Audi is superb, and in almost every way, I prefer it to the larger e-tron. I don't think it actually gives much away to that car in terms of dynamics, is almost as spacious inside despite its smaller external dimensions, looks a lot better, is more efficient and is just nicer to drive. But it is just more of the same from Audi. And with a gun to my head, I'd have to say that the Skoda Enyaq is, for me, the better of the MEB platform cars giving Audi levels of quality in a stupendously practical package for a lot less money.
Other AUTO

EV

Electric Car reviews
Here a selection of other reviews Auto EV have created that you may find of interest
HYUNDAI KONA V'S VAUXHALL MOKKA E
Mini Electric | Review 2020