AutoEV – Full road test review – Hyundai Ioniq 5
Hyundai Ioniq 5
Full Review
Is the Hyundai Ioniq 5 worthy of all the hype? Does it move the game on, and is it really the "Tesla Killer" that everyone says it is? The AutoEV road test is here to bring you the definitive verdict on this latest addition to the swelling EV ranks.
INTRODUCTION
By now, we all know how important the Ioniq 5 is to Hyundai. Based on the company's E-GMP platform, the same one that underpins sister company Kia's EV6 and luxury spin-off, Genesis with its new GV60, this is the car that ushers in a new era for electric Hyundai's. The last car to wear the Ioniq badge was a worthy, if slightly dull 5 door hatch aimed at the Toyota Prius and offering hybrid, plug-in hybrid or full electric drivetrains.
Now, however, Ioniq is going to be Hyundai's EV brand, much like e-tron for Audi, or 'i' for BMW. The 5 is the first of many new models that will be spun from this platform, covering all different shapes and sizes of cars, all charged with altering your perception of what is still a relatively young company in the UK.
AutoEV Overall Rating for the Hyundai Ioniq 5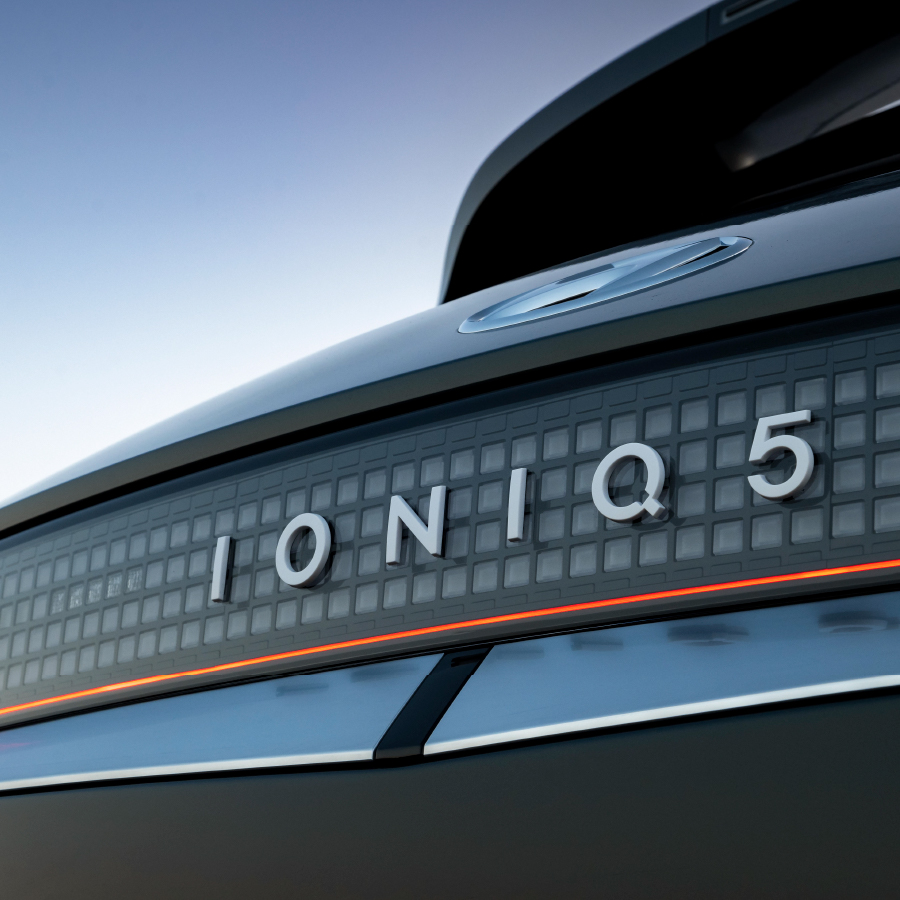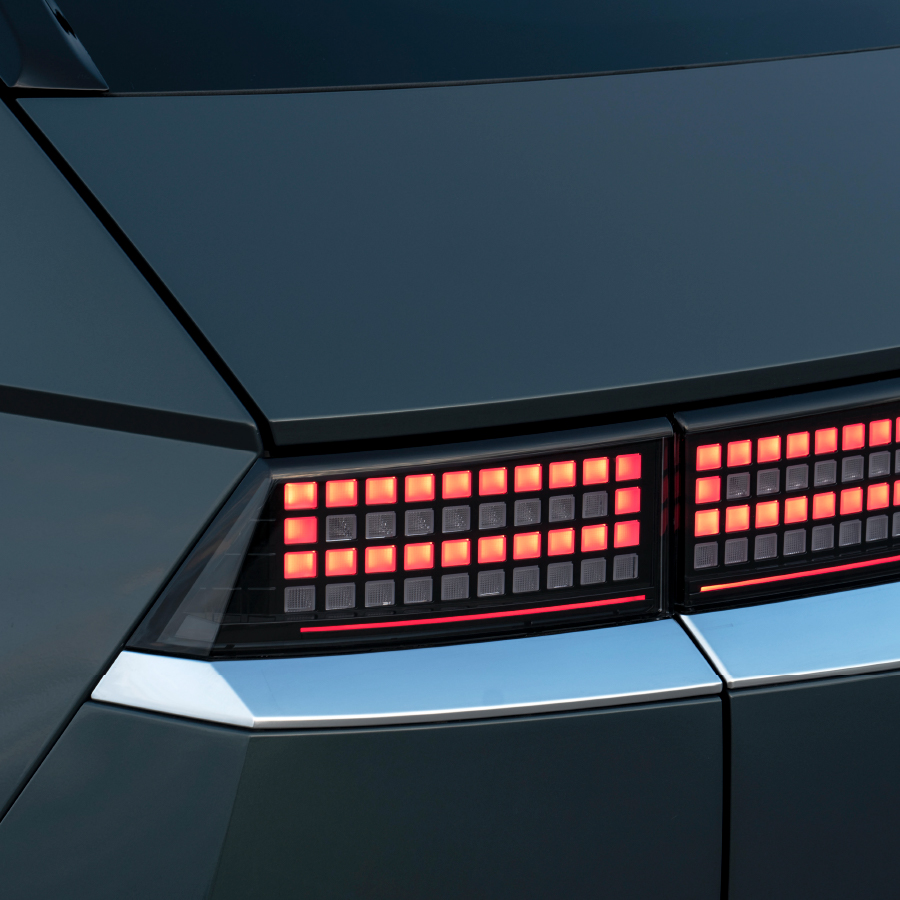 STYLING
Before you even start to delve into any other aspect of the car, the first thing that grabs you is the styling. That and the size. When it first appeared in pictures, it looked like it was going to be a Golf-sized family hatchback, but it is substantially bigger than that. This is a physically big car. Many have called it a crossover, but I'm not so sure. Yes, you can have it with all wheel drive, but to me, it's just a really big family hatchback. Much like the Polestar 2, it does sit slightly higher than cars such as the ID.3 but I would stop short of calling it anything with off-road pretensions.
This is one of those cars, much like the Honda e that has transpired from concept to reality well, albeit slightly altered, but the essence remains. The 1980's style 8-bit lights, frowning robot bonnet line, the strong creases, all relate well to the Concept car we saw at Frankfurt in 2019, but conveyed into real life.
The creases down the side, the intricate alloy wheels, the sharp lines, the way the wheel arch trims have these slashes in them to mirror the alloys, and look like the wheel has thrown them in there as it rotates. There isn't an area of the exterior that doesn't have something to discuss. It's a tall car too, but the proportions are right. They need to be too, as this wheelbase, the distance between the centre of each wheel, is 3 metres. That is just 8cms shorter than a full-size Range Rover.
And then at the rear, the pixel lights just look sensational. Overall, it's a great-looking car, and is a very brave effort from the company. Interestingly, the next Ioniq model, the 6, won't really look anything like the 5 at all. It's going to be a swoopy 4 door coupe-style car, much like the Mercedes CLS, VW Arteon and BMW i4, and that is a good thing. Let's get away from the Audi 'photocopier' design language and give cars their own individual personality. Bravo Hyundai.
PRACTICALITY
Boot space is 527 litres to the parcel shelf, and this will increase to 1,587 litres with the seats folded. There is a small amount of underfloor storage for cables, and you also get a small boot at the front which would take the cables, or a small bag, and that is 57 litres in capacity, but only if you go for the rear wheel drive car. If you go for all-wheel drive, then that shrinks to just 24 litres.
The other benefit of that slightly bigger stance is being able to just step into the car. You don't drop down into it, or have to climb up into it, you just step across, which is excellent for those who may have limited mobility or aren't quite as young as we used to be….
Rear seat space is excellent, and you are able to slide the rear seats individually and recline them too. Leg room is more than enough, as is headroom. However footroom can be restrictive if the driver's seat is in a lower driving position, but given most people will sit so far back, it shouldn't be too much of an issue. It feels vast in the rear.
Storage space is adequate, no more, no less. You get door bins, but they feel long, shallow and narrow, and whilst there are cupholders in the folding armrest, it all feels like a bit of an afterthought. Plenty of charging ports though, with two USB ports at the rear of the centre console, and, much like the little Honda e, a domestic three-pin plug socket underneath the bench.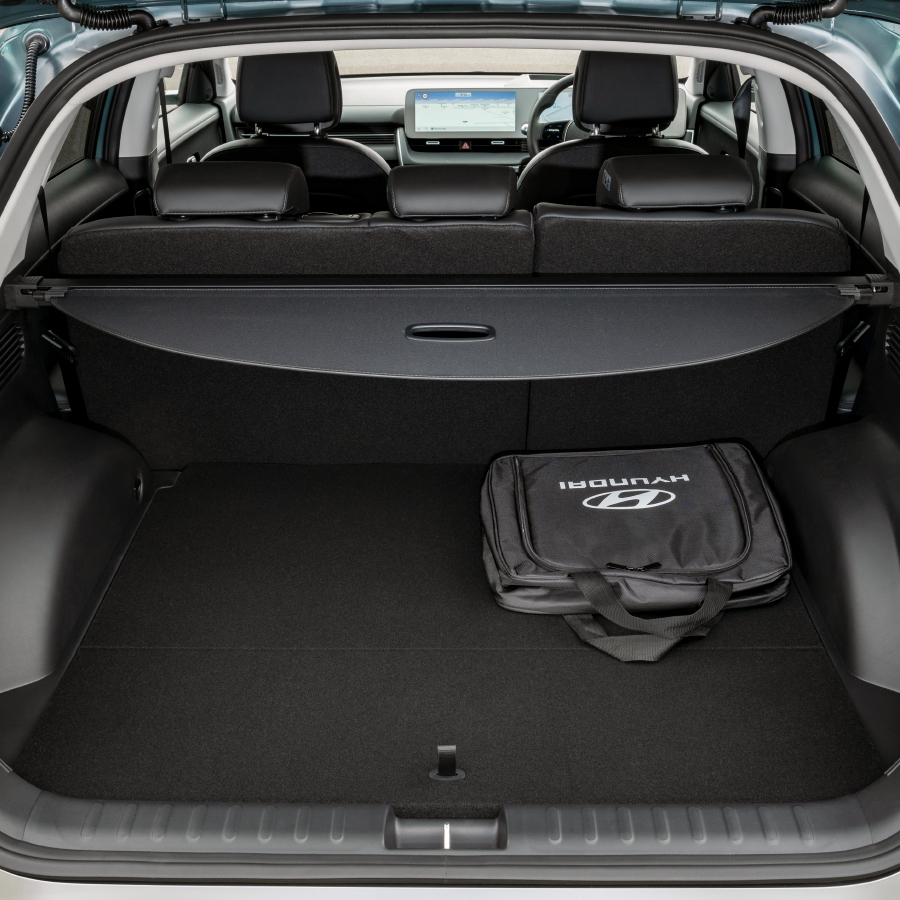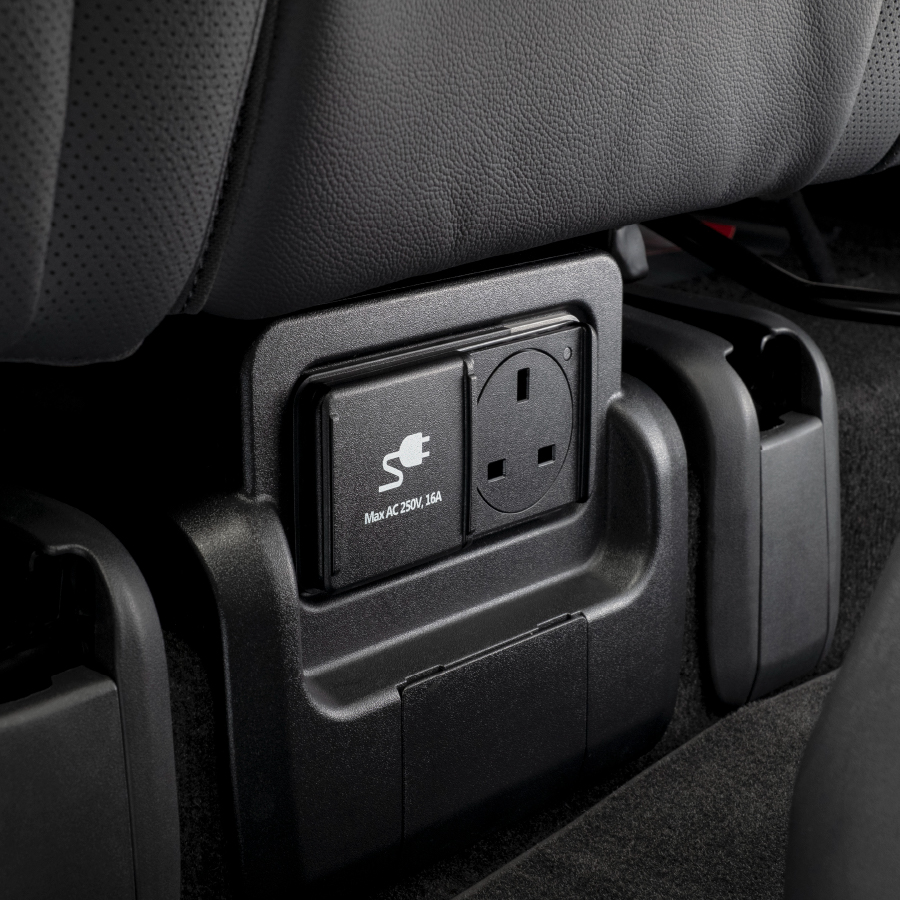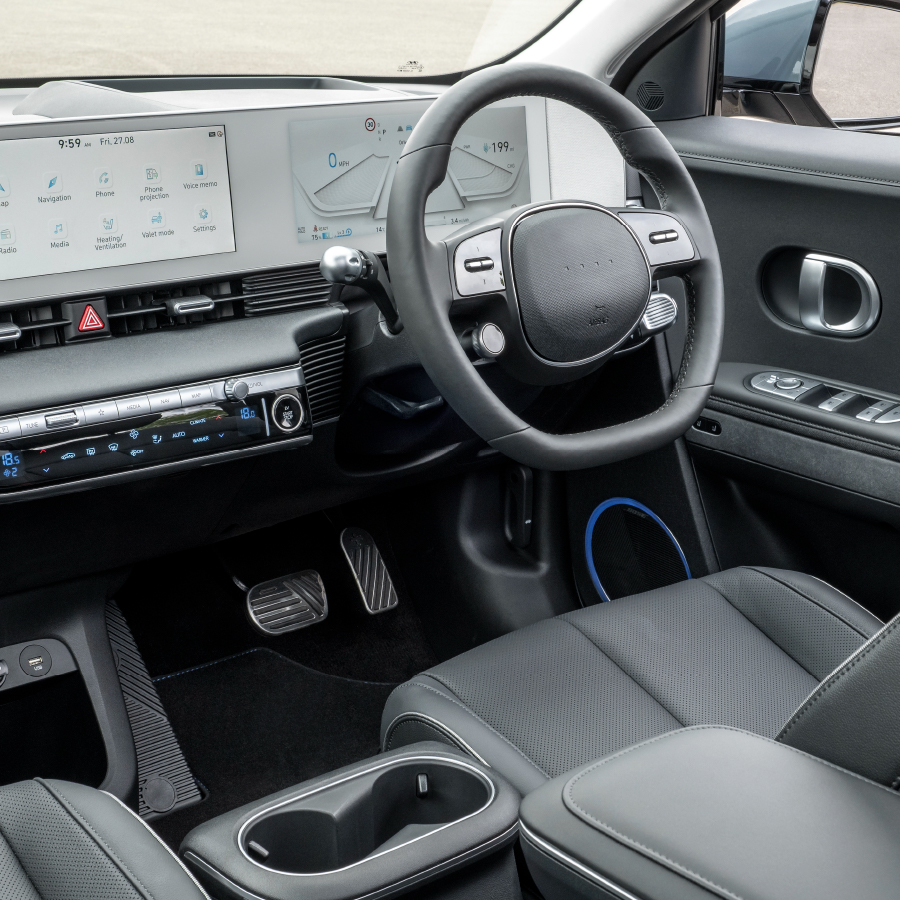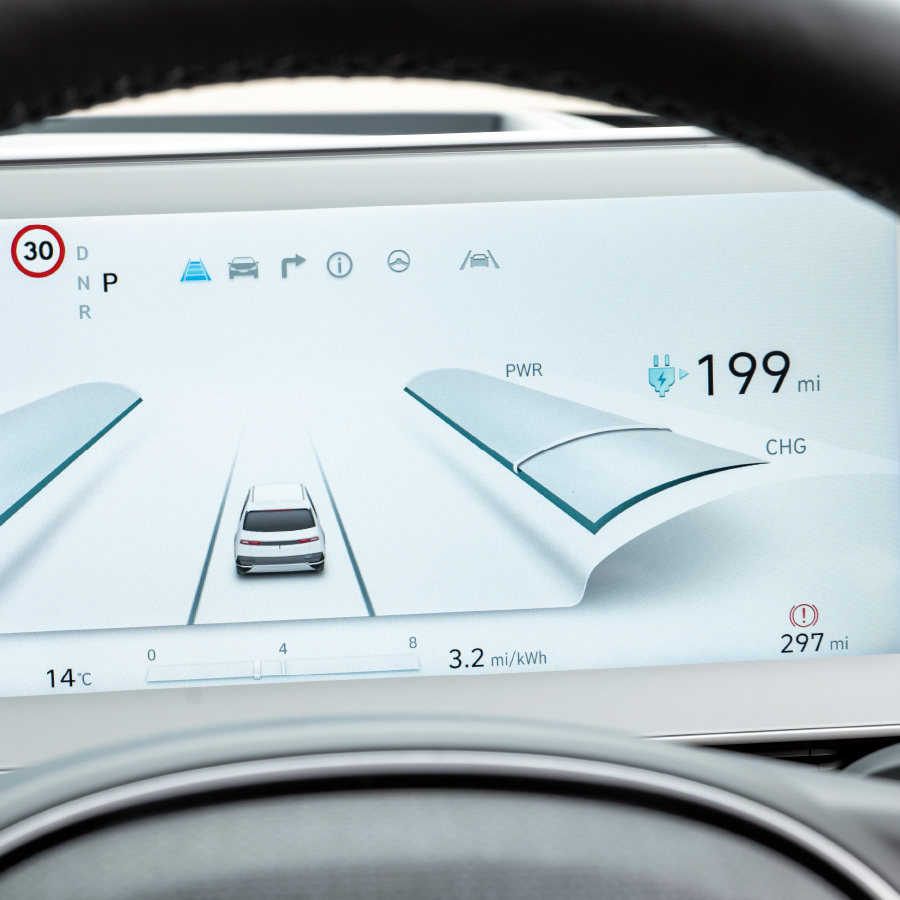 INTERIOR
Up front, the dashboard is as futuristic as the exterior. It is dominated by twin 12.3-inch screens, very reminiscent of the Mercedes-Benz interiors we have seen of late, and perhaps a bit of an evolution from the dashboard found in their Nexo Fuel Cell car in their range. On the whole, the interior is something quite special.
Because everything is mounted high up, and controlled mostly through the screen, the feeling of spaciousness dominates. You get a flat floor that you can step through, and the centre console not only has more space for your bits than Big Yellow Storage, it will also slide backwards and forwards to either give more space, or give more comfort. You get ok-sized door bins, but an excellent big drawer instead of a glove box which is nice and deep.
Our test car also had the 'Tech Pack' fitted which has the 'Relaxation Seats', so you can recline them to allow you a bit more comfort when you are waiting on your Ioniq 5 charging. The seats themselves are really comfortable with just the right combination of support and cushioning. In the 'Ultimate' trim of our press car, they are also heated and ventilated, and there is a heated steering wheel too. Oddly, however, you don't get a simple switch to turn the heating on and off, you have to go into a menu, although it isn't too bad as it's accessed by the heating and ventilation controls which are positioned mid-dashboard. These are touch-sensitive buttons with no haptic feedback, but they are better than those found on cars like the ID.3, so no need to labour the point too much. The buttons on the wheel may look touch sensitive too, but thankfully they aren't, they require a physical press.
In terms of other equipment, all is well. There is the usual Android Auto and Apple CarPlay as standard, Bluetooth, wireless phone charging, BOSE audio, memory seats and more safety equipment than you can shake a stick at.
However, all isn't perfect. Whilst visibility is good, there isn't a rear wiper, much like there isn't one on the Jaguar I-Pace and that is annoying. During our tiem with the car, the inclement weather made itself known, and even at higher, motorway speeds, the rain wouldn't clear unless the rear screen heating element was one. This is, in our view, a glaring safety omission.
The infotainment screen is also a little bit too much of a stretch away, especially for those drivers who may sit slightly further back. At least in the Nexo they give you a rotary dial (much like BMW's i-Drive controller) as an alternative.
We can't complain about the presence of safety systems, but if you may wish to turn some of them off. And to do so means delving deep into the menu systems. A simple button would suffice.
And lastly, whilst the overall build quality is good, and most of the materials are fine, there are still some cheap-feeling plastics that you have to come into contact with, such as the door handle and some of the minor controls.
USABILITY
The Ioniq 5 comes in a variety of different flavours depending on your needs. Kicking the range of you have a single motor, rear wheel drive only car with a 58kWh battery and a WLTP range of 238 miles. That car has a power output of 170PS. The car we tested was also a single motor, rear wheel drive car, but with the larger 73kWh battery, a range of up to 298 miles and a power output of 217PS. You can also have a dual motor, all-wheel drive version with the 73kWh battery and a power output of 305PS, but the range drops to 285 miles on the WLTP cycle.
We know from experience that the Hyundais and Kias are really efficient with their ranges, and during our time with the car when it had a full charge it was showing just under 250 miles on a slightly colder day, and it did exactly that with no scary sudden drops in predicted range, even on a long motorway drive.
Charging the car is excellent too, as like the Porcshe Taycan, the Ioniq 5 runs an 800V system. It can also take charging speeds of up to 220kW, meaning, if you can find a rapid charger capable of delivering those speeds, it can go from 10%-80% full in less than 18 minutes, which is excellent. It will also add 62 miles of range in just 5 minutes if you just need a quick splash and dash. From a more common 50kW fast charger, that time to get to 80% full is around 56 minutes on this larger battery. It also has an on-board 10.5kWh three phase on board charger meaning if you have the 11kW style home wall box, charging to full at home will be just over 10 hours. If it is the more common 7kW one you have, you can be looking at probably closer to twelve.
The car also comes with the option of something called V2L, Vehicle to Load, in other words, you can run the power in the opposite way using the car as a sort of generator.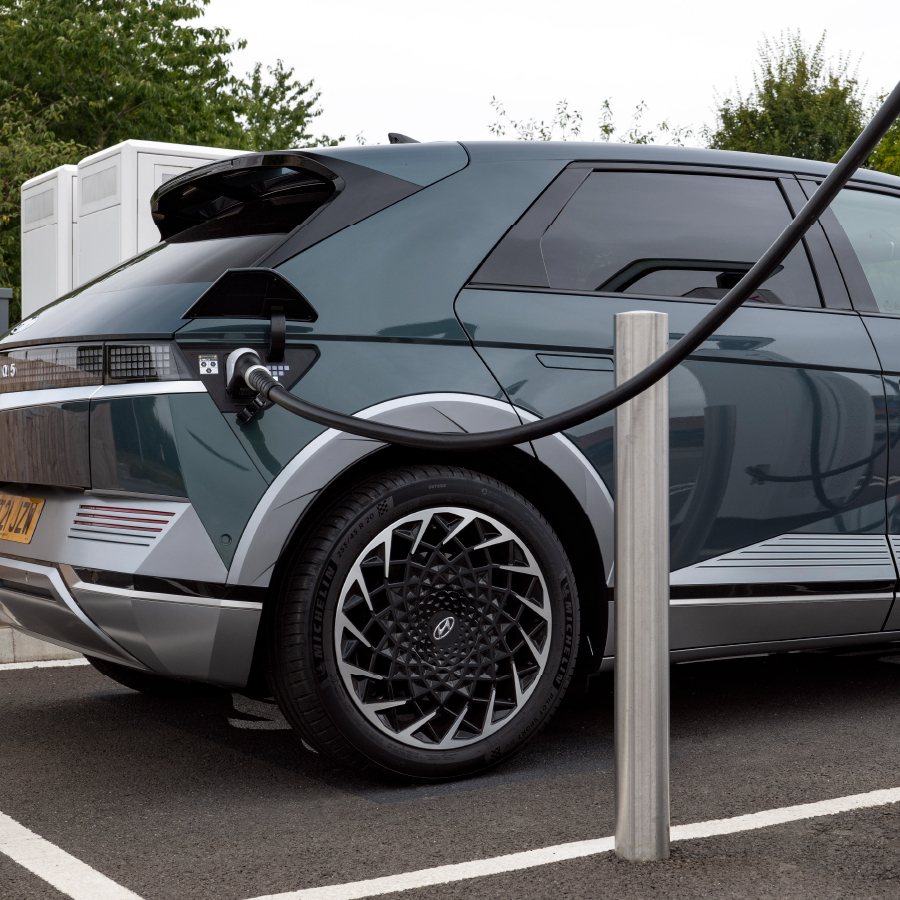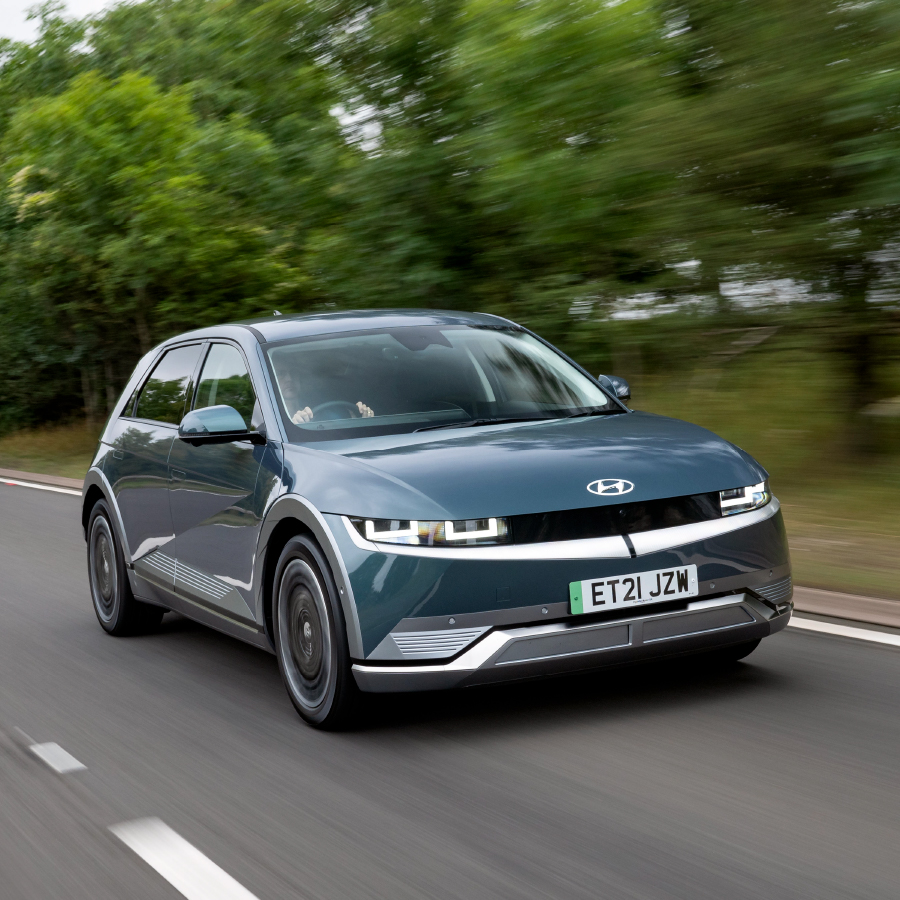 PERFORMANCE AND HANDLING
As mentioned, the car we had was the middle ranking Long Range, rear wheel drive car, so power is rated at 217PS allowing for a 0-60mph time of 7.5 seconds, a full second quicker than the lower powered, smaller battery car, but two seconds slower than the 305PS all wheel drive one. Being honest, we think that this model might be the sweet spot in the range, giving good performance for this size of car, coupled with the longest range.
Of course you have your different driving modes which are sourced via a steering wheel mounted button a la Porsche Taycan. Throttle response sharpens up nicely in 'Sport' mode as does the weight of the steering and you can really feel the difference. But be warned, don't be fooled into thinking it will be some form of electric hot hatch, because when reaching those bends, the cars physical size and weight make themselves known. It isn't untidy, but let's call it ungainly. Cars like this aren't for going fast, and nor is it its forte.
What it does do well, however, is be very relaxing on a longer drive. Quiet, refined and very comfortable. If we were being honest, there have only been two things that have just irritated slightly. Those interfering safety systems could be alarming at times when they activated. It really should be easier to turn these off.
Secondly, the lower speed ride is a little unresolved. You get a little bit too much interference around town from the suspension. On the 'Ultimate' specification it is fitted with some rather lovely 20-inch alloy wheels, and you do wonder whether the 19-inch ones help a little to get rid of that jiggliness. The car isn't as 'wafty' as anticipated on those surfaces that are less than super smooth.
Otherwise there is very little to complain about with how the car drives. The brakes have a nice progression to them, you can adjust the regeneration via the usual two paddles on the steering wheel giving different levels of aggression and the car acquits itself very well as a family holdall.
The only other gripe in terms of the driving position is the driver's screen. The speed and range are pushed to the left and right of the screen meaning that in some driving positions, the view of them is hindered a bit by the steering wheel with the more minor information slapped in the middle in plain sight. It would be nice if that could be configured a little better.
In contrast to the irritating safety systems though is the blind spot view monitor which is part of this car's optional 'Tech Pack' as it gives you a visual from a side mounted camera on the dashboard when you activate either indicator showing you what is in your blind spot. Very clever, and really useful.
PRICING
The Ioniq 5 sits in a more elevated position in Hyundai's range than the smaller Kona, so is priced accordingly. None of the range will be applicable for the UK's PiCG as the prices start from £37,000 for the base 'SE Connect'. That car only comes with the smaller battery and rear wheel drive only. The 'Premium' and 'Ultimate' can be had with the small battery, single motor, long range battery single motor, or long range battery, dual motor. Those are spread from just over £39,000 up to £48,000. Those prices are correct at time of our test.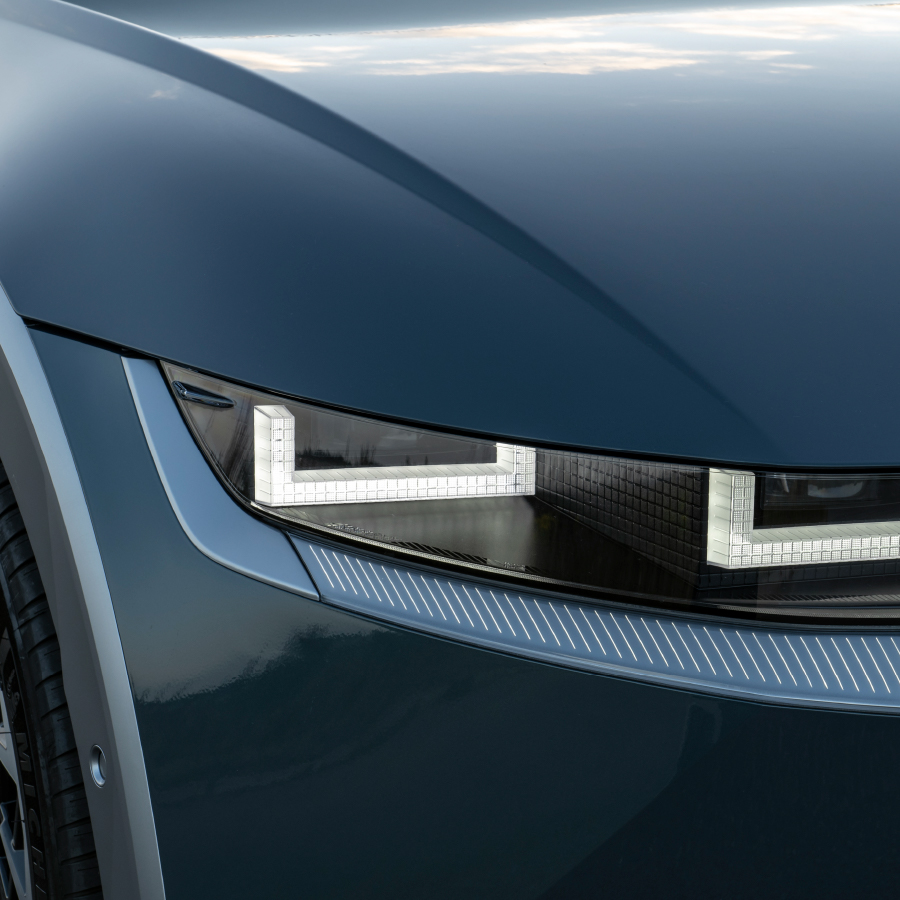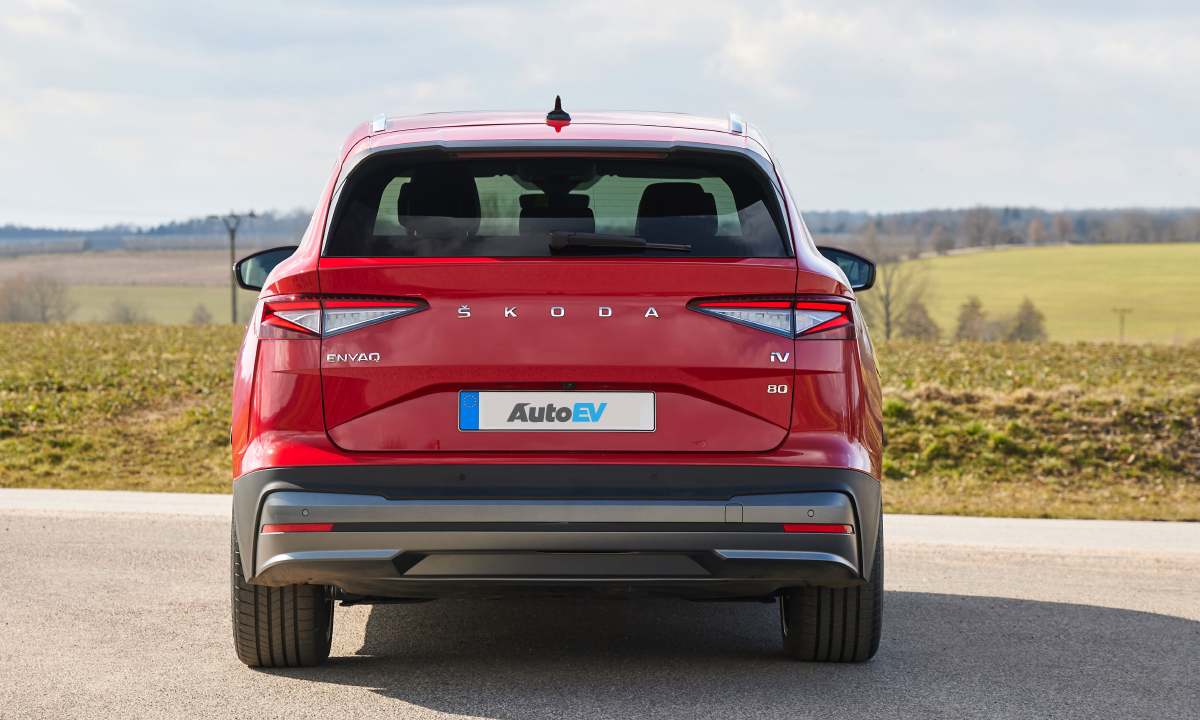 COMPETITION
This is a very busy sector of the market, and depending on how you see the Ioniq 5 will depend on what you compare it to. If you see it is a large family hatchback, then you can compare it to the Volkswagen ID.3, and perhaps the Polestar 2. If, like some, you think of it as a SUV/Crossover, then perhaps it's more like the ID.4, Skoda Enyaq, Ford Mustang Mach-E, Audi Q4 e-tron that may appear as more natural rivals.
However you see it fitting in, there is no doubt that its biggest competition will be from within its own family, and that will be the Kia EV6 and Genesis GV60.
PRO's
We like:
Looks

Space

Refinement & comfort

Range and efficiency

Tech on offer
CON's
We don't like:
Low speed ride

Safety systems are too complicated to override

Some cheaper interior plastics

Lack of rear wiper

CONCLUSION
It should be no surprise that the Hyundai Ioniq 5 is an exceptionally fine car.  It fulfills its brief of being a large family car well, and the technology on offer is just enough without dominating the experience.  The interior space and packaging is of particular note, and unless you need a 7 seater, I can't see many scenarios where the Ioniq 5 doesn't meet most family's needs.
Is it a game-changing EV?  No, it isn't.  Is it a game-changing Hyundai, however, most definitely.  Keep in mind that the company only appeared in Britain in 1982 with the aptly named Pony, and went on to give us such gems as the Stellar, which was just a rehashed Ford Cortina.  And here they are, just forty years later giving us cars like the Ioniq 5.  
This is a seriously good car, one that delivers the goods promised by the looks.
Other AUTO

EV

Electric Car reviews
Here a selection of other reviews Auto EV have created that you may find of interest
HYUNDAI KONA V'S VAUXHALL MOKKA E
Mini Electric | Review 2020