AutoEV – Full road test review – Kia E-Niro
The Kia e-Niro has been with us for three years now, and in that time, many newer electric crossovers have entered the market. And in 2021, Kia will launch the hotly-anticipated EV6. So does this, and all those newer rivals, relegate the e-Niro to the bottom of your list of cars to consider? In this episode, Bryan embarks on a trip to his hometown in Scotland to put the car to the ultimate test – the family driving holiday!
KIA E-Niro
Family holidays when I was younger certainly didn't involve getting on a plane. It meant a static caravan in a holiday park on the north Yorkshire coast, and getting there from our hometown on Scotland involved a fairly arduous car journey. The other issue we had, was that we had to take my grandmother and her two sisters, so including my parents and my sister, that meant seven of us. And my dad had a Ford Granada saloon. Thankfully, his work colleague had an Escort estate, so they swapped for a week, a luggage rack was fitted to the roof of the Escort, and my sister and I were consigned to facing backwards out of the boot. This was the 'Seventies after all.
Now my family holidays are, praise be, a little bit safer, less traumatic and a lot quieter. Especially when three of us and a small dog all get into the Kia e-Niro for a trip from our home in Surrey to visit my mum in Scotland. Nearly seven hundred miles in silent, comfortable, electric bliss.
The e-Niro has been around for a couple of years now, but of course, we have seen this area of the market become awash with the new form of family car, the compact crossover, so competition for the car is fiercer than ever. Does the car still hold its head high?
Like its cousin, the Hyundai Kona, the e-Niro is available in two battery sizes, either a 39kWh capacity with a WLTP range of 180 miles, or a 64kWh one rated at 280 miles. It is the latter in trim level '3' that I would choose for our trip. Again, as is always the case with the Korean EV's, the efficiency and range prediction is as accurate as archer's arrow, giving me an indicated 255 miles from a full charge. However, given that would mean charging at one of the woeful motorway service stations with the added stress of having to entertain a young child and small dog (who isn't allowed inside them at all) for the hour or so as it charged, I opted to plan ahead using Kia's new KiaCharge service. This is an RFID card with two subscription models giving access to over 14,000 chargers and a handy route planner. Less than 10 minutes from the M6 lies the town of Knutsford where the excellent service and decent food of the Legh Arms were waiting with access to their 50kW Osprey rapid charger. This provided me the opportunity on the trip north, and the return leg to mean only stopping once, both times around meal times. Perfect. And they took dogs.
And what a relaxing car the e-Niro remains with external noise kept to a hushed minimum, and the interior providing a comfortable haven in which to spend those miles in. Performance form the 201bhp motor is ample for this size of car, even making it feel quite spritely in 'Sport' mode, and the chassis feels able to cope with most scenarios save for a clumsy application of the throttle on damp roads. And whilst the suspension may lack the ultimate suppleness of the DS3 Crossback E-Tense or Citroen e-C4 provides, it didn't come close to being classed as anything else other than comfortable.
The interior, much like the exterior, may lack the design flair of newer offerings from Volkswagen, Ford and Skoda, but it is well-built, well-equipped and, well, comfortable. You can opt for the lower '2' trim grade with either the 39kWh or 64kWh battery options and both fall below the revised UK's Plug-in Car Grant ceiling of £35,000 making this unbeatable value.
We know how fast the electric automotive landscape is shifting, and with many legacy car manufacturers entering the fray with dedicated EV's, it would be easy to dismiss the Kia e-Niro as a bit of an old-stager, especially with their much-anticipated EV6 about to enter the market. Yet to consign the e-Niro as a bit of an also-ran would be to make a huge error of judgement. Not only does it remain a true contender in this hard-fought sector, but it still vies for top spot.
Other AUTO

EV

Electric Car reviews
Here a selection of other reviews Auto EV have created that you may find of interest
HYUNDAI KONA V'S VAUXHALL MOKKA E
Mini Electric | Review 2020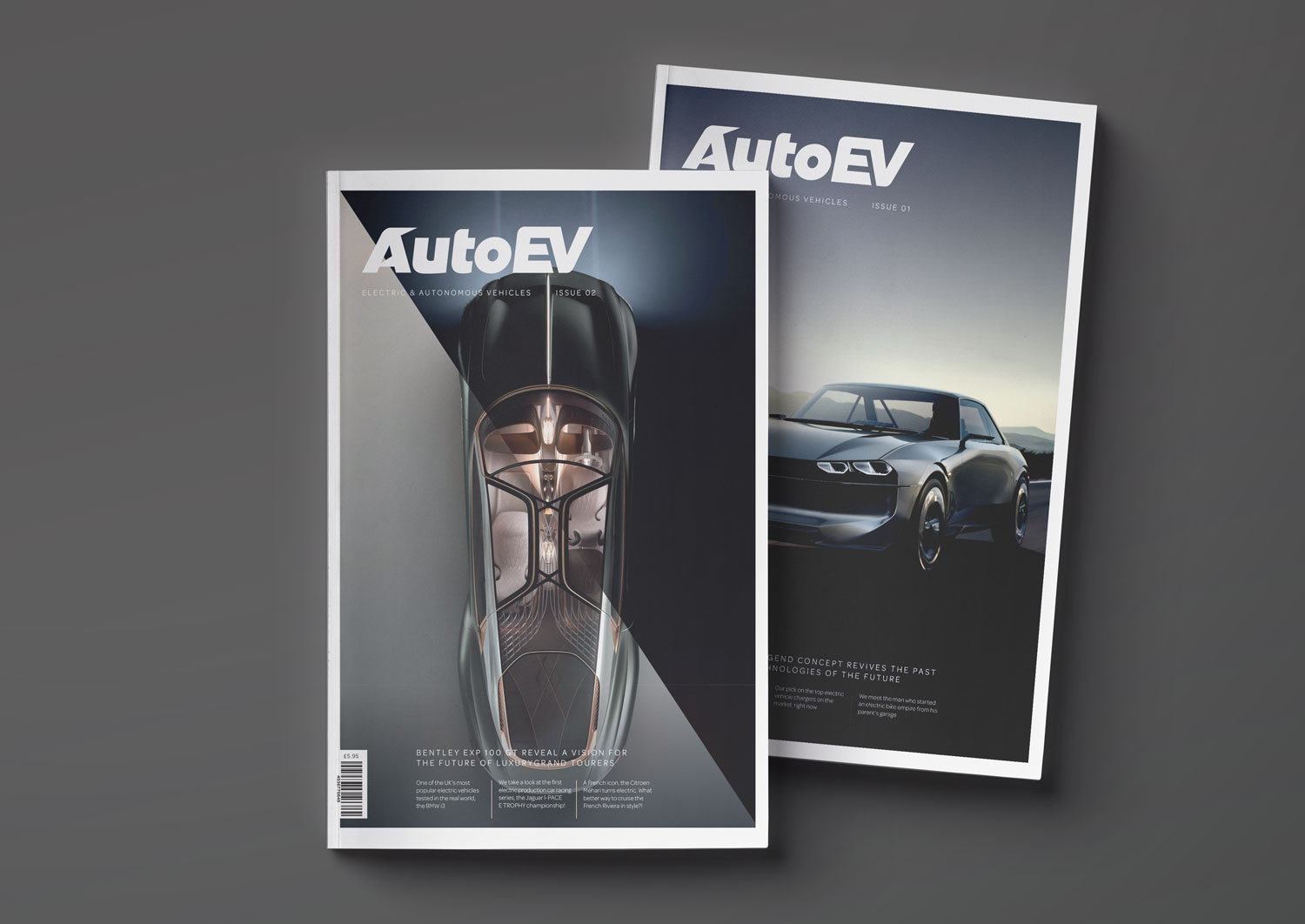 AUTO
EV

Magazine

AutoEV magazine is designed and styled to appeal to the electric vehicle enthusiast, focusing on lifestyle, innovation and the excitement of driving this new breed of cars.
"Old-school gorgeous. And you've done that special thing - made EVs objects of desire. I'm looking forward to reading every word this weekend."
Quentin Wilson, Automotive TV Celebrity
"Your magazine has a really high-class and premium look."
Mason Finney, Media Relations Executive, Peugeot Motor Company.