AutoEV – Full road test review – Ford Mustang Mach-E

Ford's decision to badge its first all-electric production car as a 'Mustang' is especially remarkable when the car comes in the shape of a 5-door SUV.
INTRODUCTION
There have been many controversial decisions made in automotive history.  Switching the Porsche 911 to water-cooling, maxing out the MINI, replacing the Land Rover Defender with, well, something that was actually comfortable to drive, have all had their detractors.  However, maybe none more so than Ford's decision to badge its first all-electric production car as a 'Mustang'.  Especially when that car came in the shape of a 5-door SUV.
Some might see it as a bold and brave move, others have venomously chastised Ford for this unforgivable plagiarism of the original Pony car's badge.  Either way, it's got people talking.  But talk is cheap if the car is a let-down, so it's time to put it to through its paces in the new, revised AutoEV road test.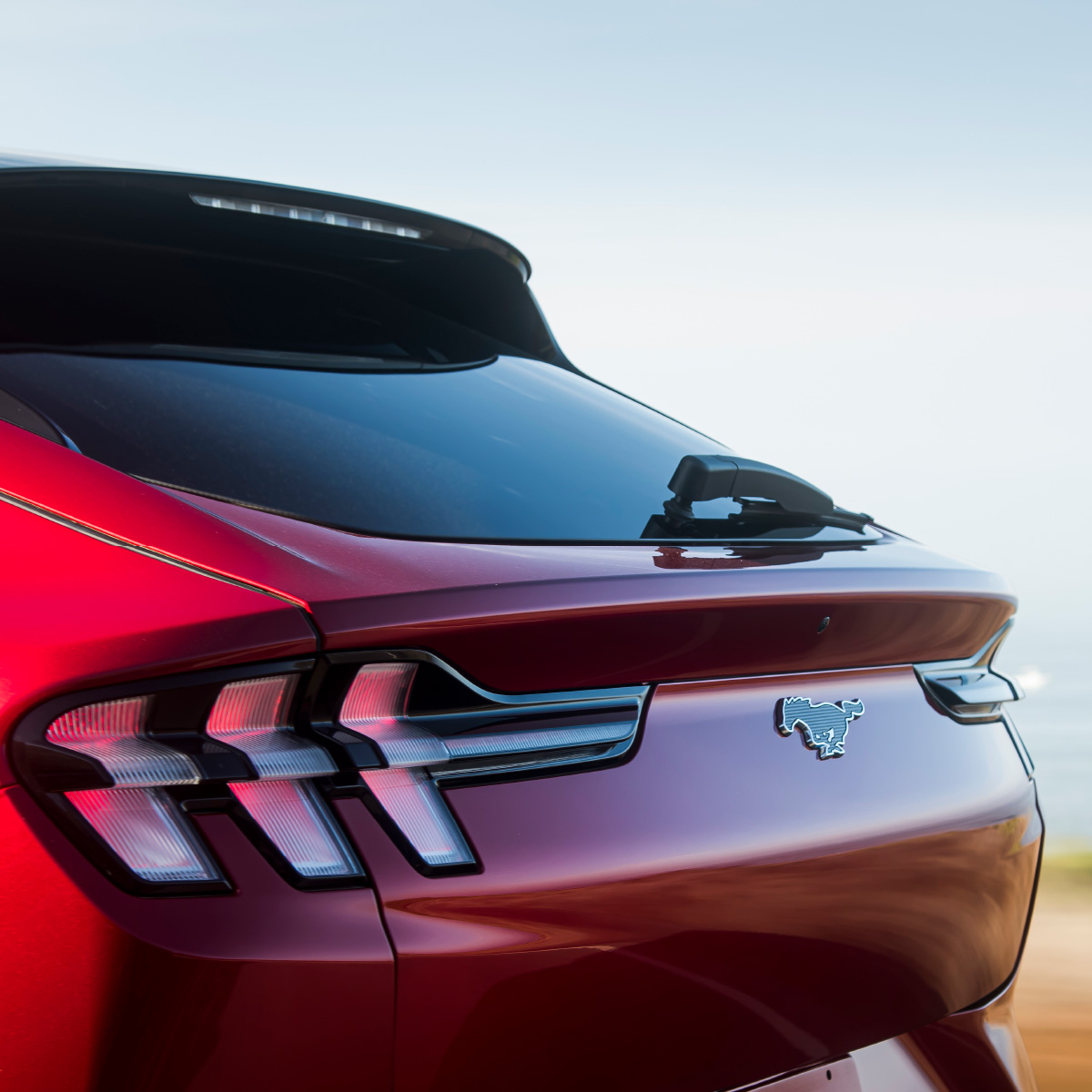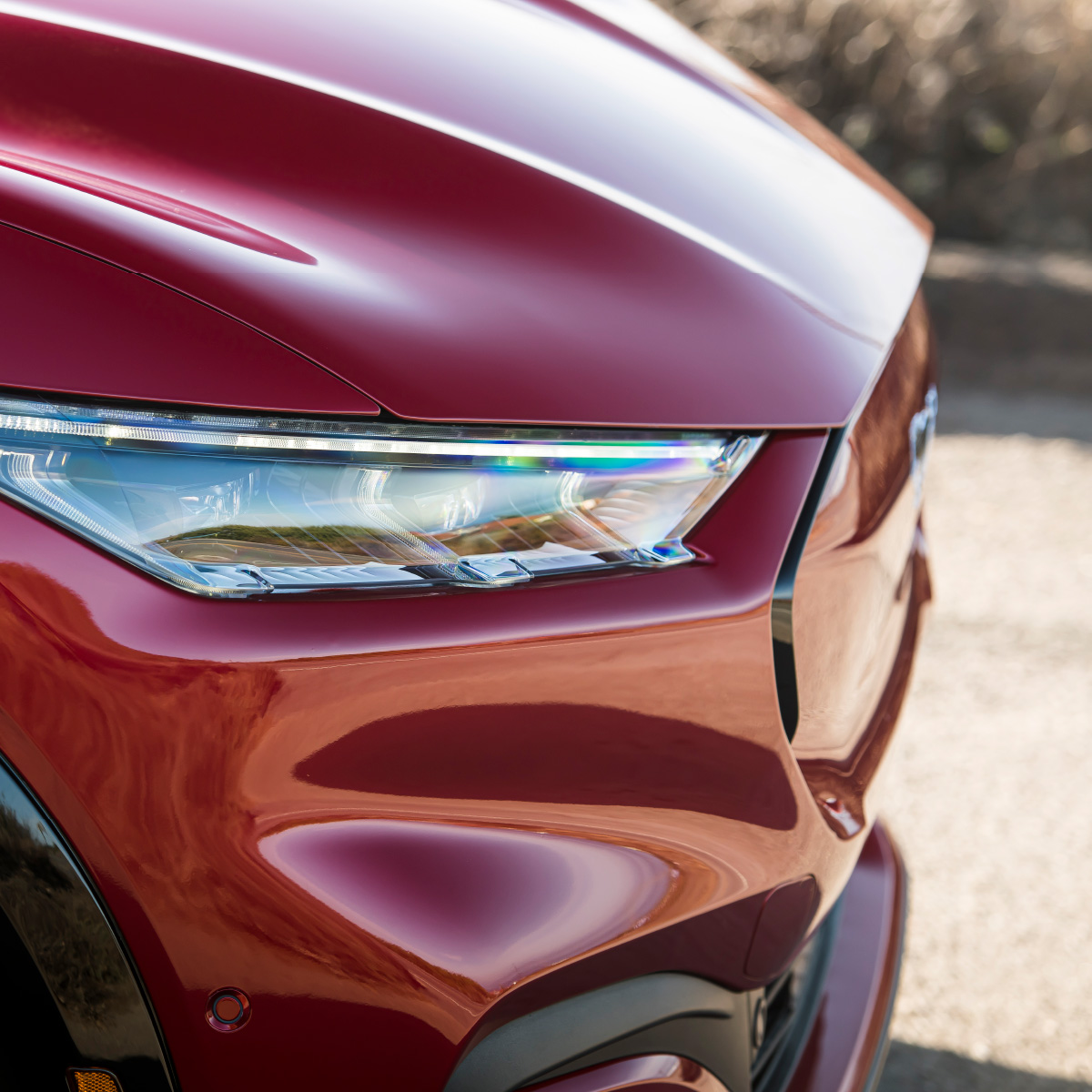 Technical spec
Engine power (bhp): 98.8 kWh (285 Hp)
Torque: 415 Nm
Power: 201bhp
Torque: 225.8 ft-lb
0-62mph: <8.0 sec
Acceleration from 0 to 100 kmh: <8.0 sec
STYLING
Have Ford tried too hard?  Have they tried to integrate too many Mustang styling cues to the point it's a mess?  In my humblest of opinions, no.  I think it looks just right.  The swept back headlights either side of a blanked grille-that-isn't-a-grille shows a true resemblance to the latest Coupe and really works well.  No visible Ford badges are present, just like the Coupe.  This is a Mustang first and foremost.  It is Ford's halo product and having the fabled pony badge is all it takes to get itself noticed.  It certainly cuts a dash amongst its more upright and conservative rivals.
The bonnet curves back, stretching over the wheel arches to give it a very muscular front, bonnet bulges referencing past glories with internal combustion engines to give onlookers hope that the new EV world isn't the doom-and-gloom they think it will be.
Down the side of the car, again some subtle curving gives an air of something more powerful.  My only reservation here is the lack of traditional door handles.  Instead, you have electric buttons, and I can't help but feeling that is just something that will stop working one day.  And how practical will they be in the frosty winter months we seem to enjoy here in the UK?  You can enter the car via a keypad embedded in the B-pillar, or you can just use the key fob like a normal person.  I do like the styling trick of painting the upper roof black which draws your eye to the lower line, making the car appear sleeker than it actually is.  A sweeping tailgate that brings me in mind of the '67 Fastback, especially as it drops down into the distinctive, three-claw signature tail lamps finishes off a very distinctive look.
I love what Ford has done with the car, although again, I appreciate it is a very divisive car.  In my opinion, they have succeeded in invoking enough references to the Mustangs of present and past without being retro.  Its less school run, more ¼ mile run, and that makes it a success in my book.  Especially in a vibrant colour with some big alloy wheels.  'American Graffiti' meets Greta Thunberg.  Everyone's a winner.
PRACTICALITY
The trade-off for that sleek, '67 Fastback referencing rear hatchback is that the Mach-E has a smaller boot than some important rivals at just 402 litres. This will open up to 1,420 litres with the rear seats down, and the backrests fold flat onto the squabs allowing for a truly flat load area.  There is also an additional 81 litres of storage under the bonnet, which is perfect for your charging cables, or if you store them under the boot floor, you can use it for popping in wet boots or coats or any other gear that you use in your hobbies as it is plastic, and can easily be cleaned.   
Moving into the rear seats of the Mustang shows the real benefit of a completely ground up EV design.  A flat floor giving plenty of foot room, nice, high-set seats giving you a good view forward, and plenty of leg room.  Our test car had the full-length panoramic roof fitted which is part of the 'Technology Pack, but even so, headroom is pretty good for those of average height.  The rear bench is supportive, with two ISOFIX points and a folding centre armrest that houses two cupholders.  You also get usb and usb-c charging ports in the rear.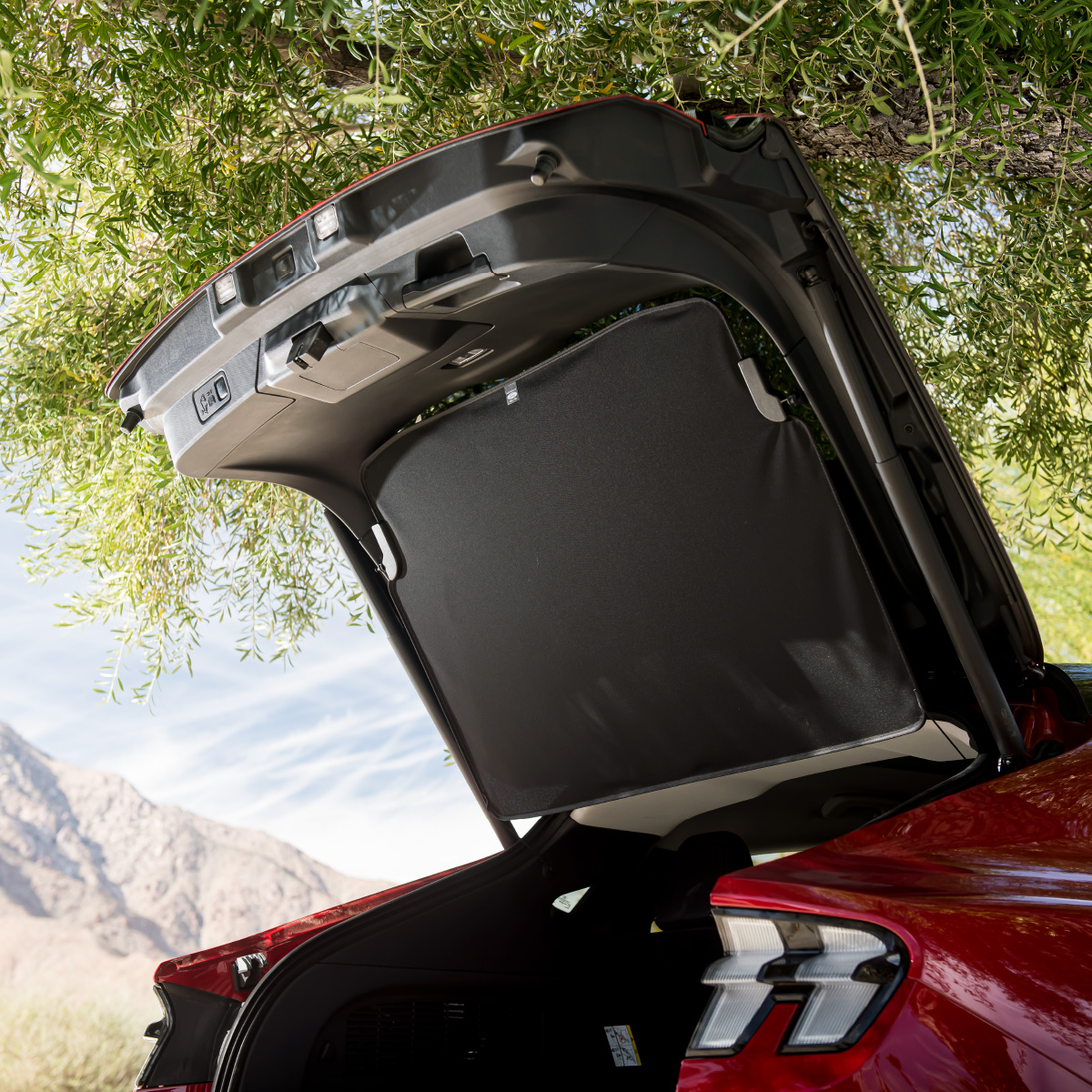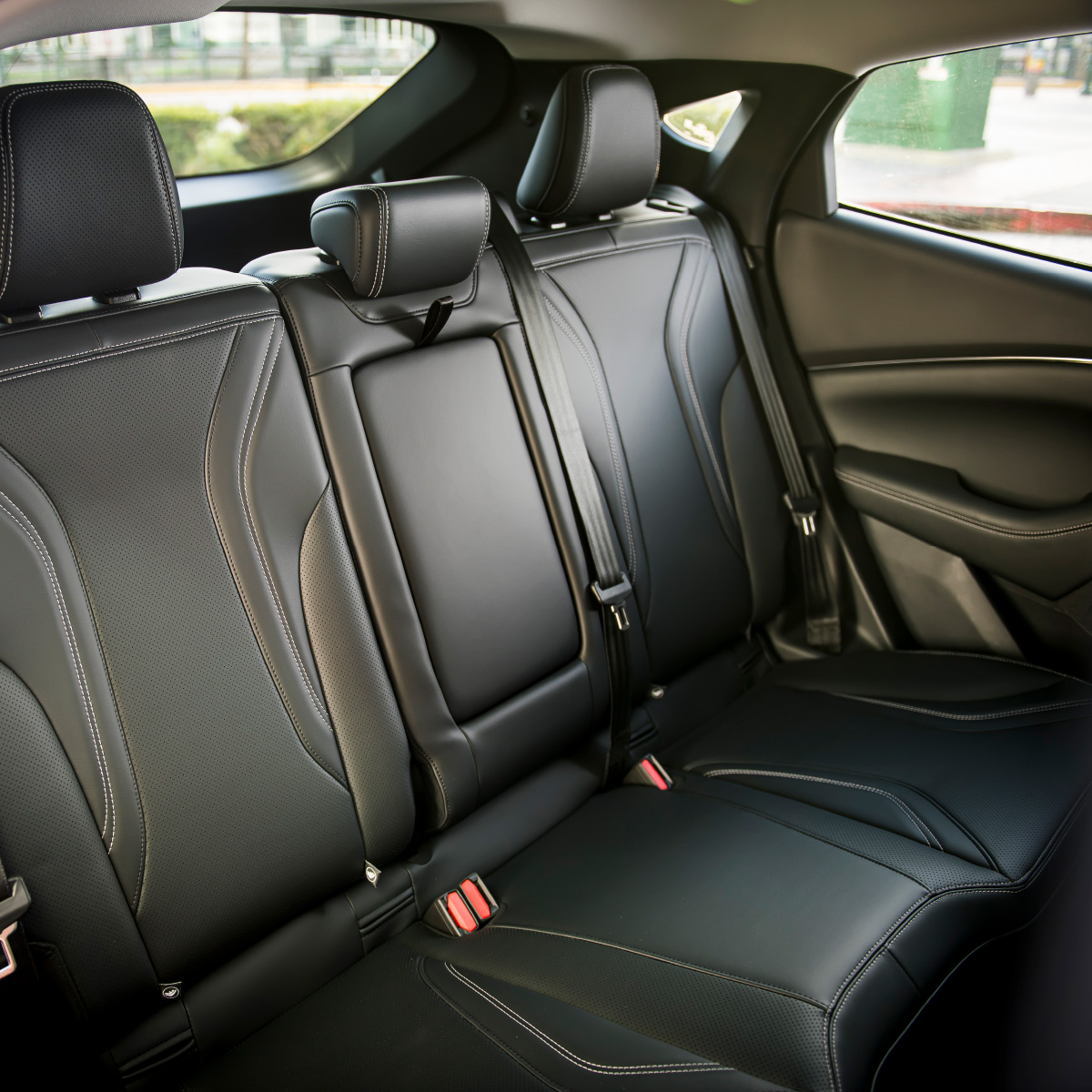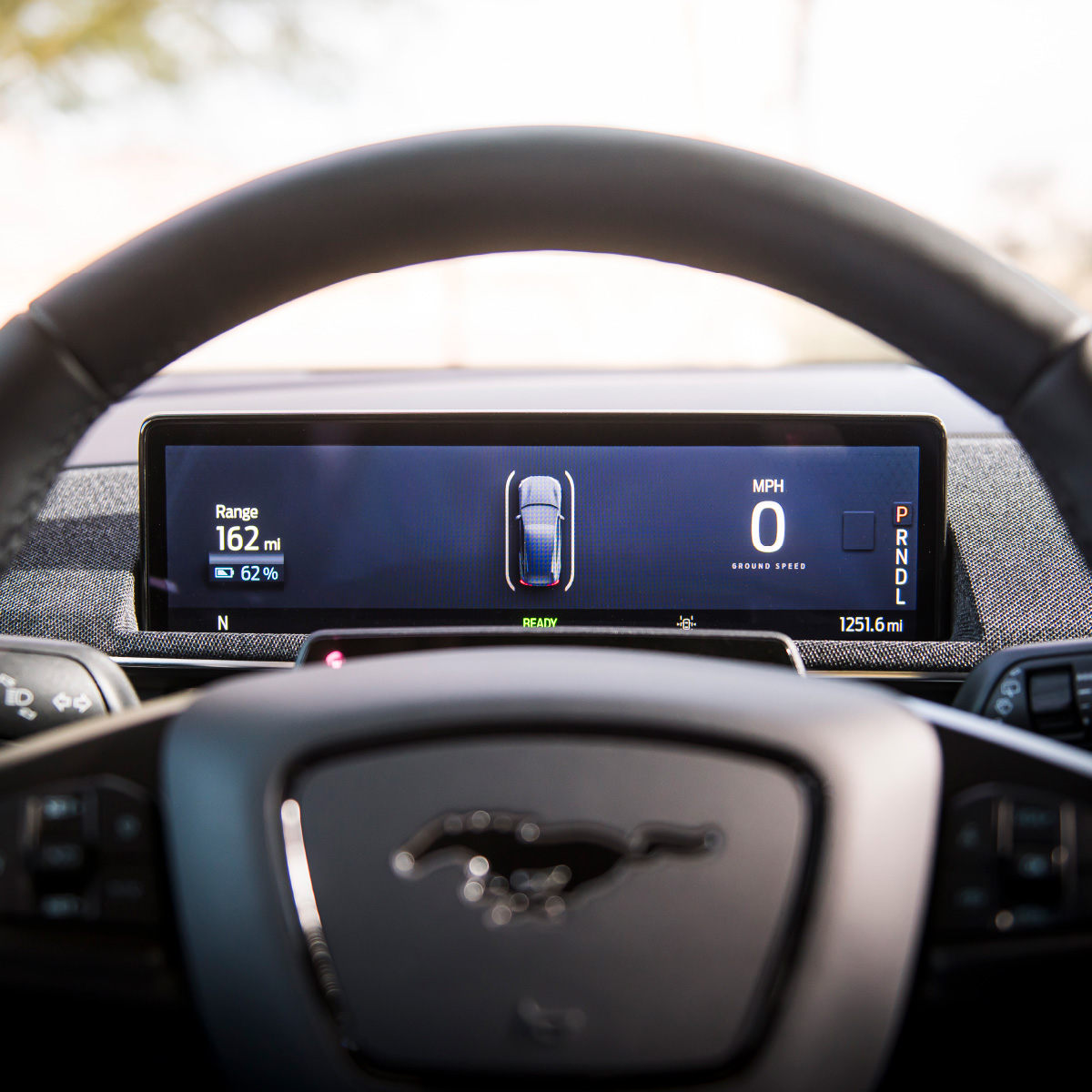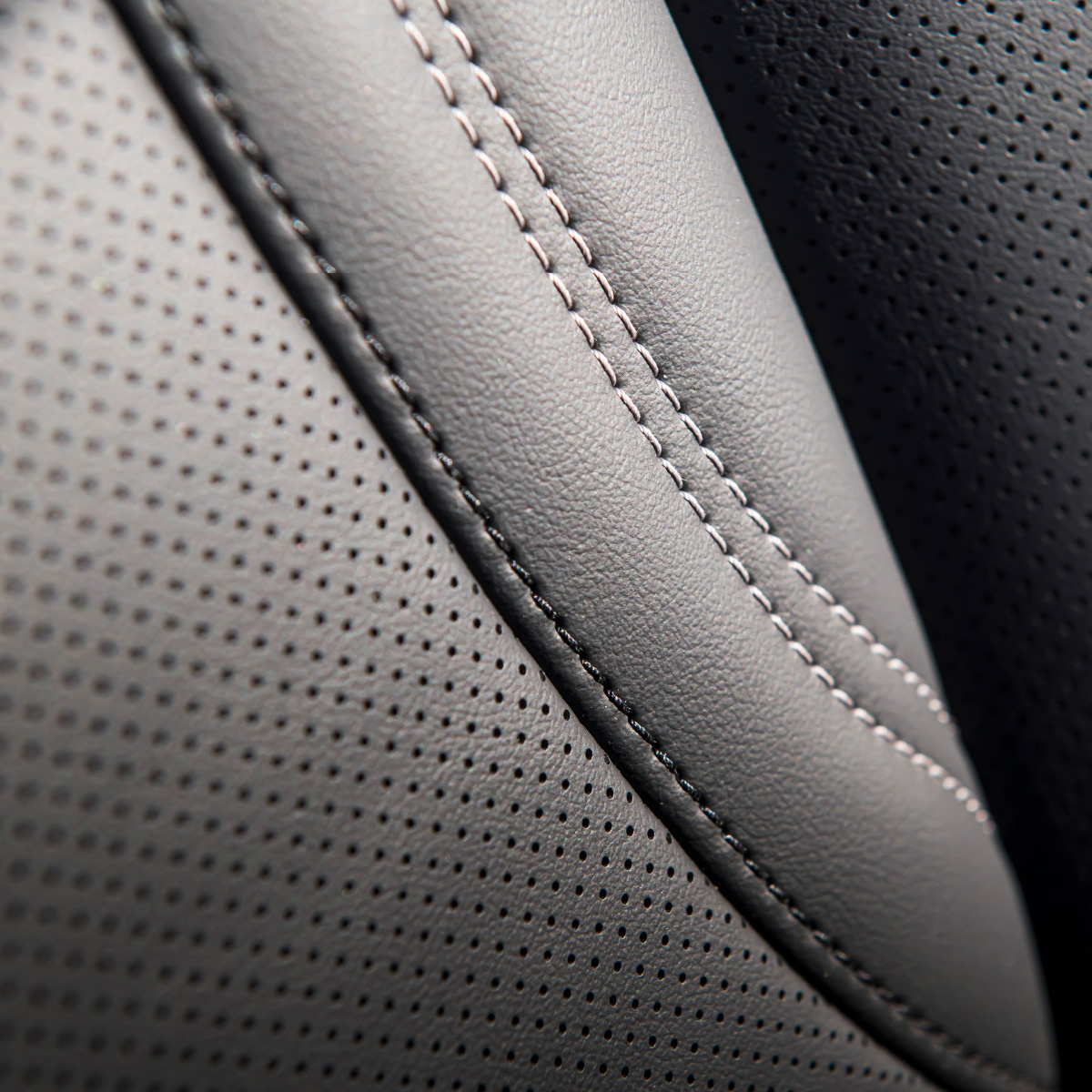 INTERIOR
Apart from the name, the next talking point of the Mach E is the interior.  And for us, we have mixed feelings.  The cabin is dominated by a huge 15.5-inch portrait screen.  Very Tesla like, and it runs Ford's operating system, SYNC 4.  This is the company's connected ecosystem allowing you to access real-time navigation with up-to-date traffic information, route planning and charging locations and requirements based on your driving.  It's a cloud-based system and therefore provides over the air updates for the car.  Clear and quick to respond, it includes wireless Apple CarPlay and Android Auto, and although they are screen controlled, the climate controls are always at the bottom in the same place, so you do get used to where they are.  You also get an imbedded rotary dial for the audio volume, and physical controls for things such as lights, wipers, and all the things you need at a moments' notice.   The system is voice controlled too, so commands can be given to activate certain functions without taking your hands off the wheel, and eyes off the road.
Behind the wheel is a smaller, 10-inch landscape instrument display with speed, charge and other pieces of information you might need at a glance.  This is fixed to the dash, but relatively easily read depending on your driving position.  All in all, it does work well.
Our reservation is the actual aesthetics of it all.  It really does look like someone took a large tablet and just mounted it on one of the face vents, which by the way, are neatly designed into the dashboard behind it.  The whole dash is designed to mimic the double-cowled dashboard in a classic Mustang, but then it gets hidden behind this gargantuan screen.  The test car also had the 'Technology Pack' fitted which gives it an excellent Bang & Olufsen audio system, plus things like 'Lane Keep Assist with warning', 'Quickclear' heated windscreen, 'Applink' remote control system, a Thatcham Category 1 alarm, 360 degree camera, hands free tailgate operation, advanced active park assist and the aforementioned panorama roof. This is fitted to all extended range cars and adds to a very impressive equipment tally.  Heated and electrically adjustable seats, wireless charging for your phone, privacy glass, heated steering wheel, blind spot alert, cross traffic alert and the usual driving aids also feature.
Whilst the seats are comfortable enough, they lack a little lateral side support, and feel softer in the squab than some rivals.  Build quality is also another area where the Mach-E shows  its origins as certain areas of the interior don't feel quite as 'premium' as the £52,000 price tag would suggest.
USABILITY
You can have two battery sizes in the Mach-E depending on your chosen trim level.  In the standard rear wheel drive and all-wheel drive cars, you can have the Standard Range battery with a 68kWh usable capacity to give a WLTP range of 273 miles on the single motor car, 243 miles in the dual motor one.  You can also have the Extended Range, such as our test car, with an 88kWh usable battery capacity, also available with either two- or four-wheel drive, and giving either 379 miles or 335 miles respectively.  Charging ability also varies depending on the battery size.  The smaller battery will take speeds of up to 115kW, the larger, 150kW, so going from 10%-80% takes between 38 and 45 minutes.  Impressively though, you can add 66 miles of range to this car in just 10 minutes at that maximum charging rate.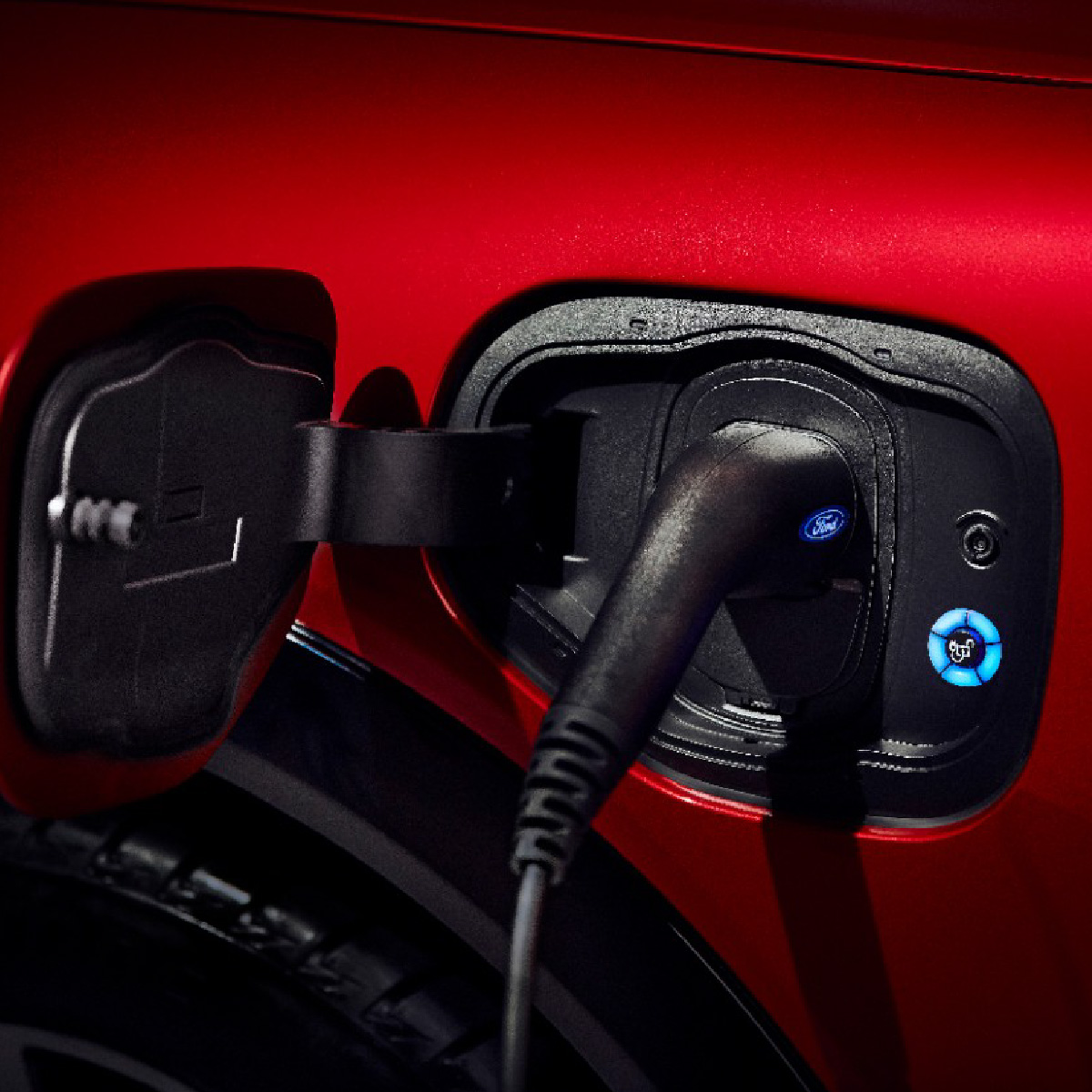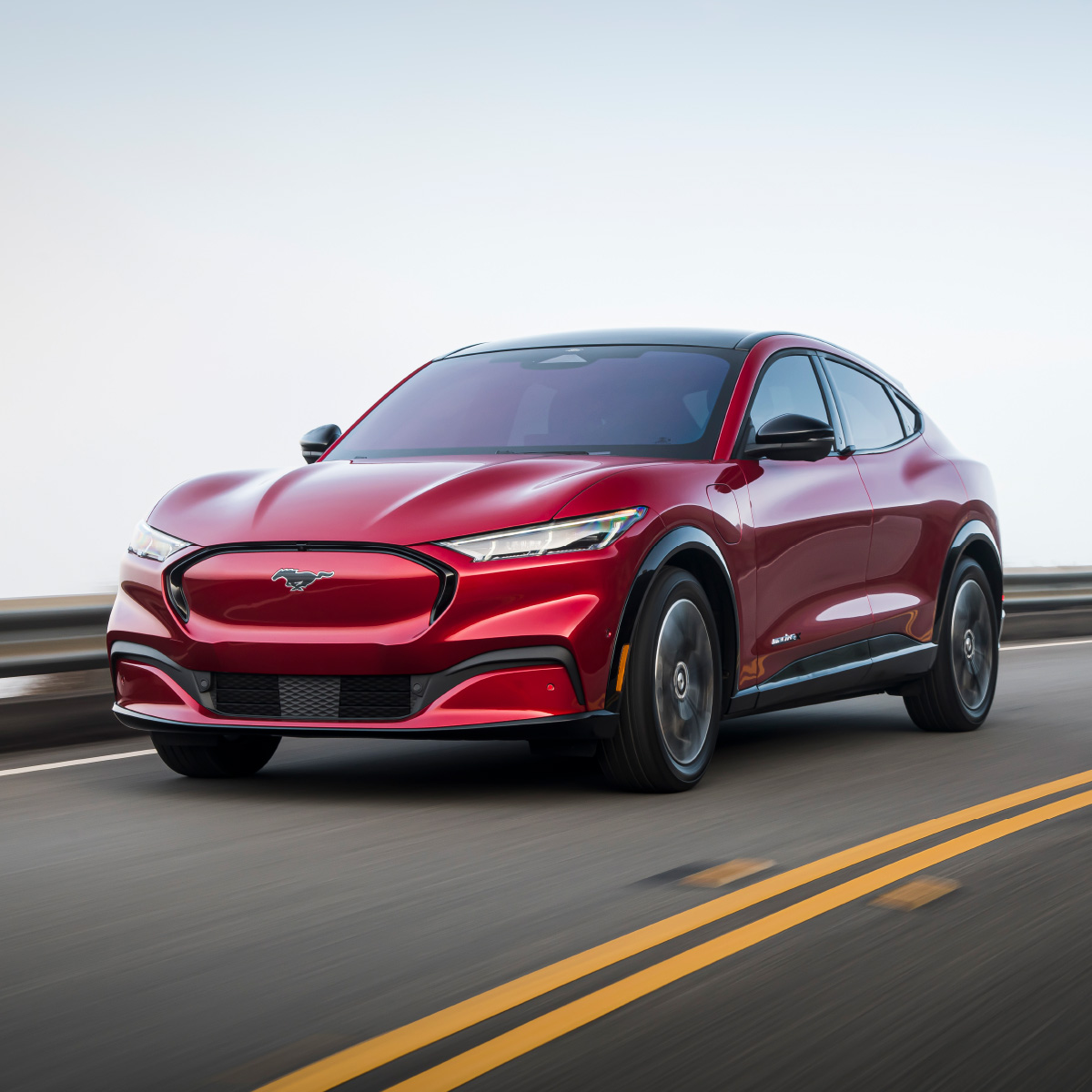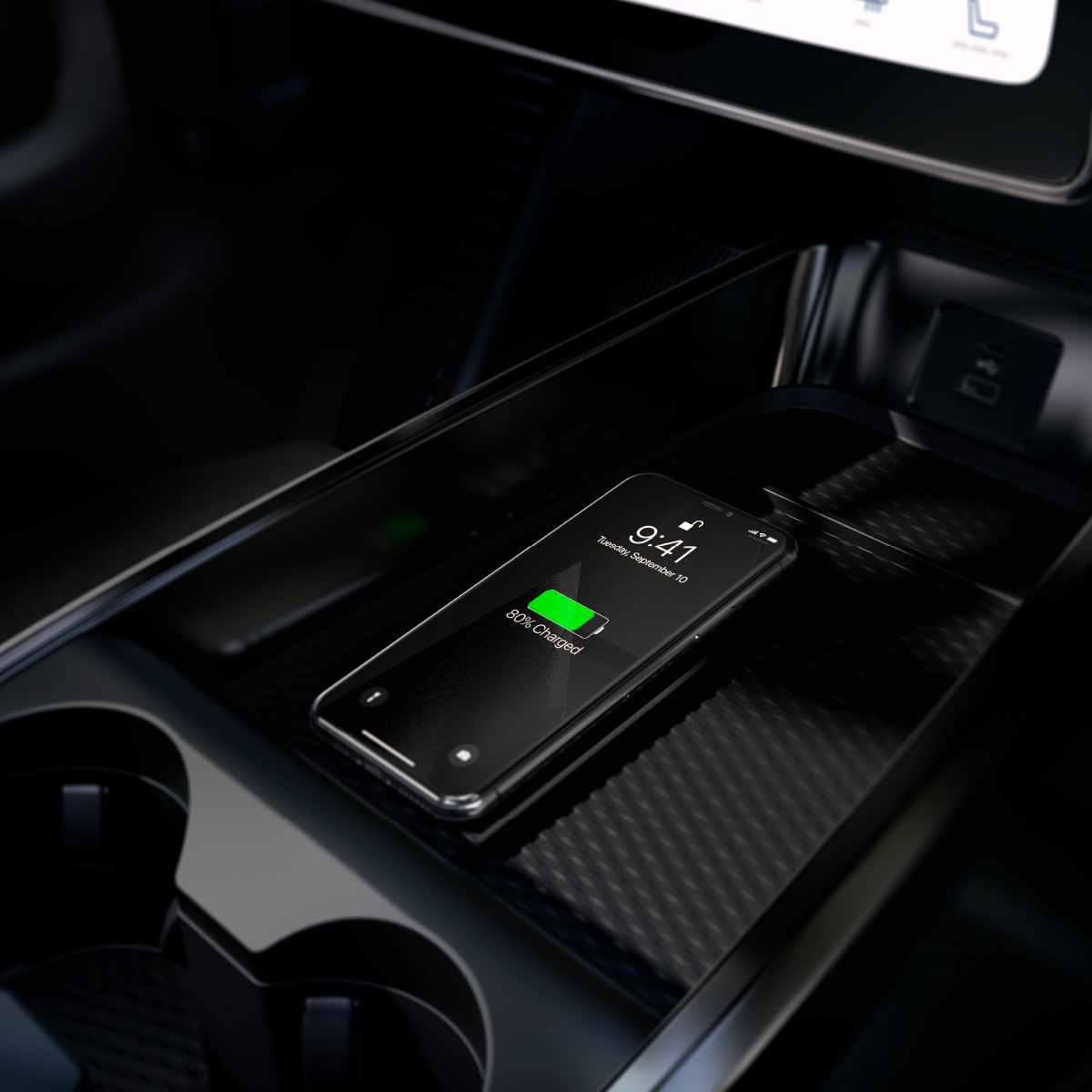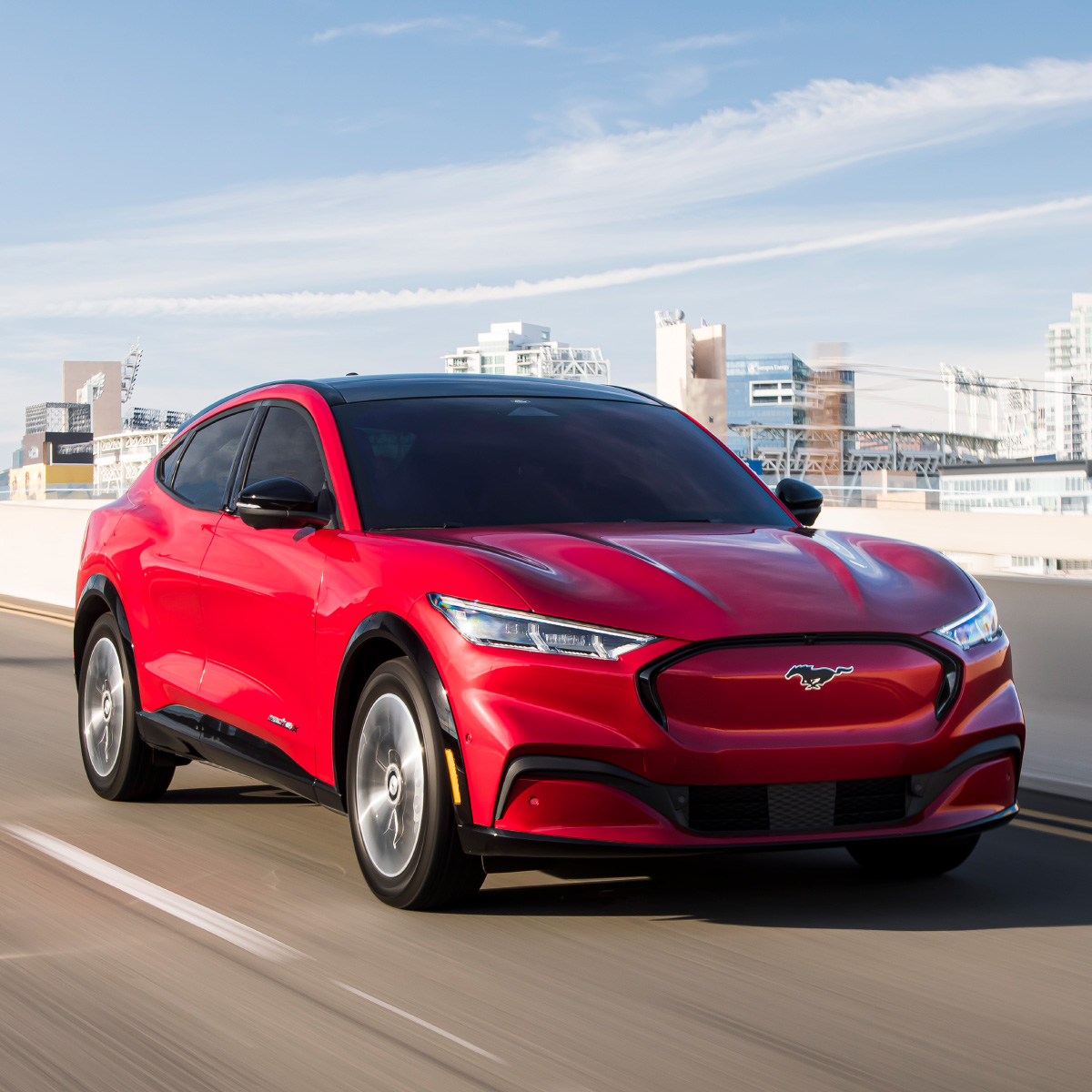 PERFORMANCE AND HANDLING
The Mustang has 294PS going through a single motor at the rear wheels.  Now you'd think that should give it a fair turn of speed, but in reality, the benchmark sprint to 62mph takes an adequate 7 seconds.  And it doesn't feel especially quick, certainly not for a car that has nearly 300bhp.  Put that down to weight, as it tops the scales at over two tonnes.  That weight is, however, all down low, so the trade-off is a reasonable amount of body control.  Ford have also firmed up the suspension as an aid to helping the Mach-E go around corners, but the reality is, all that has done is make the low-speed ride unsettled.
It's not a car to be driven at 10/10ths, but then none of these cars are.  And it's not actually bad at being driven with a bit of gusto, it's just that it highlights the weaknesses, chief of which is the light steering.  If it had a bit more weight behind the helm, I could almost forgive the ride quality.  But as it stands, these are the two areas that let the side down.
The rest, you'll be pleased to hear, is all good though.  You get a good driving position (although this is where the aforementioned extra seat support would be appreciated) and the car works really well over long distances in terms of overall comfort.  The brakes are easy to modulate, although like the Porsche Taycan, the car's default setting is to coast, therefore improving efficiency on open roads.  You can dial in some brake regeneration by pressing a button labelled 'L' in the middle of the rotary transmission dial, and you can also select a one-pedal driving mode in the 'Settings' section on the centre screen.
The handling is very neutral, and your nerve will end before the car gets uncomfortable and out of shape.  Despite the rear-wheel drive, this is no driver's tool in which to savour your favourite B-road in, but nor is it a car that feels out of its depth.  
Three driving modes are available, 'Whisper', 'Active' and 'Untamed'.  For most scenarios, 'Active' is the most settled with just the right amount of feedback and quiet enough to enjoy the surroundings.  'Whisper' dulls too much, and as for 'Untamed', well after the initial realisation that it doesn't match the gusto of a Shelby GT500, you'll just snigger at the piped-in synthesised V8 sound and go back to 'Active'.
PRICING
The Mach E range starts from just over £41,000 and expands all the way to £67,00 for the range-topping GT.  At the time of our test, the Extended Range, rear-wheel drive car we had was priced at £51,000, and is possibly the sweet spot of the model, balancing range with good equipment, value and enough driver enjoyment.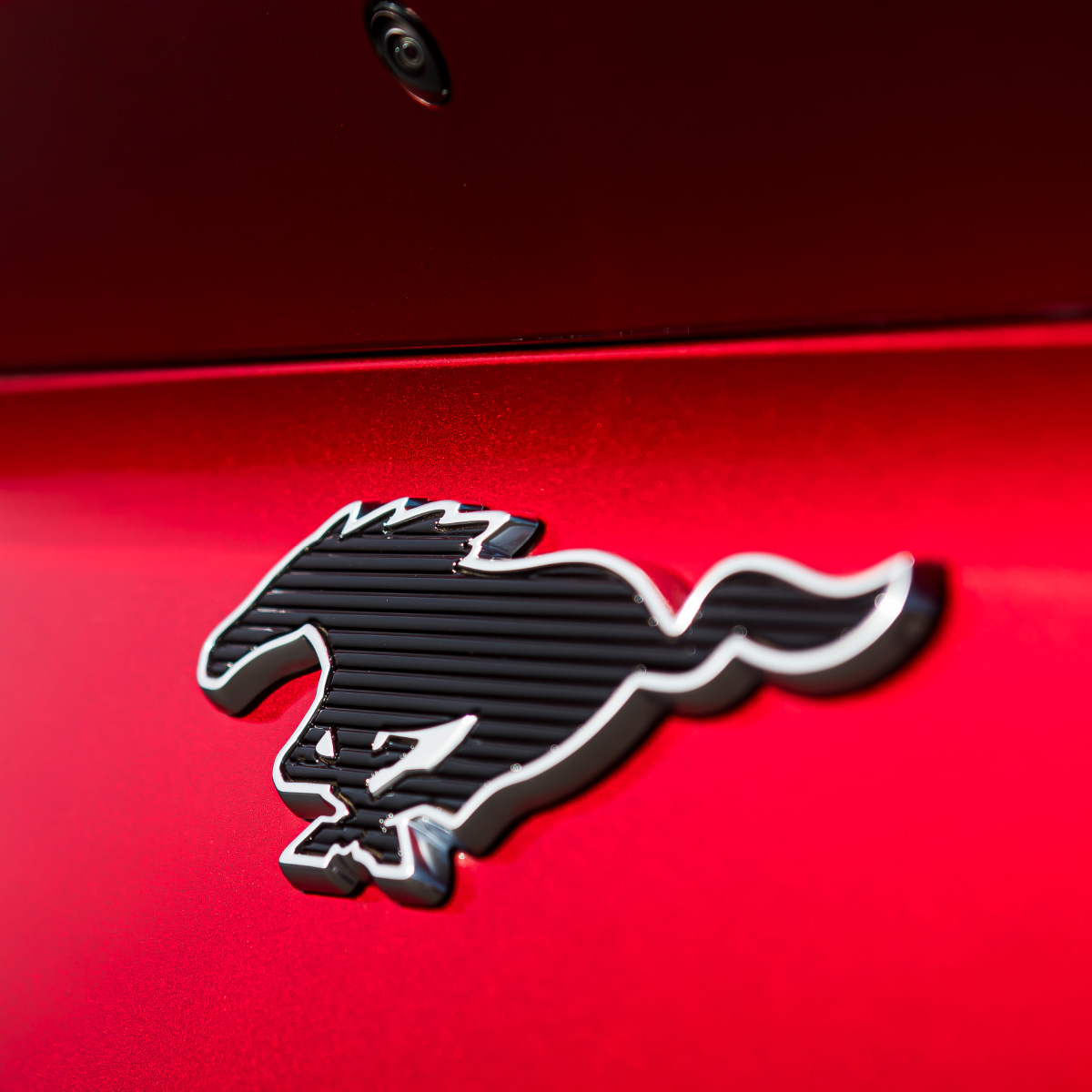 COMPETITION
This is a sector that is crammed with talent.  Audi's Q4 E-tron is just one of the many cars to use Volkswagen's MEB platform that also underpins the ID.4 and Skoda Enyaq, with the all-electric Porsche Macan still to see the light of day.  Then you must acknowledge that Hyundai and Kia are about to turn up with the Ioniq 5 and EV6 respectively.  And if they are as good as we expect them to be, then things are going to get really tough for the Mustang.  You also have to consider the Lexus UX300e which we have already tested as a competitor, although in fairness, it doesn't have the talent of any of the cars we've mentioned so far and remains a more left-field choice.  Nissan are also about to launch its anticipated Airya, a car we are very much looking forward to seeing.
Mercedes-Benz also continues its own onslaught into the EV space with the EQA.  And remember, by 2025 Jaguar will only offer electric cars, so will the replacement for the E-Pace also be a contender?  In fact, only BMW is a notable absence in this space at the moment when it comes to premium brands, because it's iX3 is targeted more at the bigger E-tron and EQC. 
PRO's
We like:
Styling
Range
Well-equipped
Good storage up front
Infotainment system
CON's
We don't like:
Ride is a bit firm
Steering is a bit numb and vague
Interior design a little incohesive
Boot space trails main rivals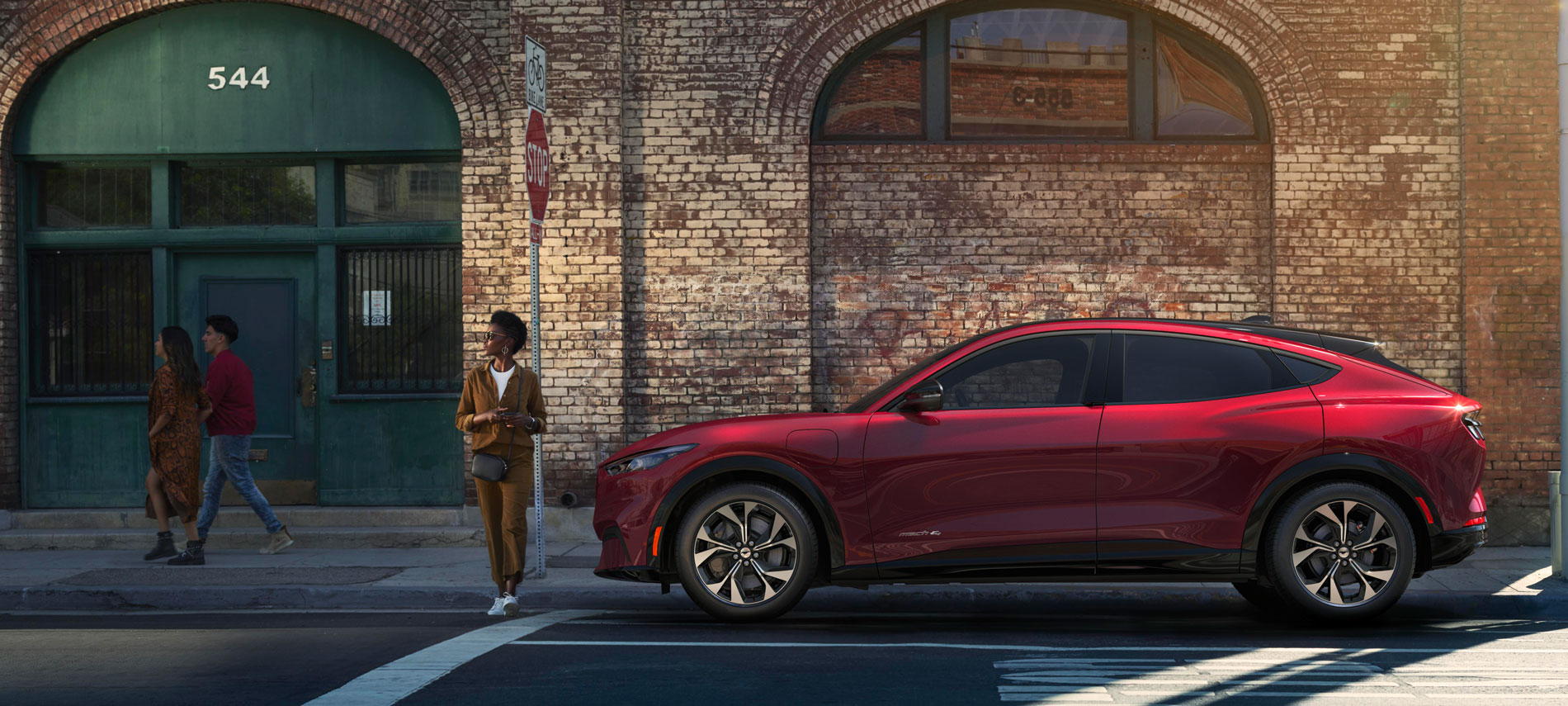 CONCLUSION
Have Ford done enough to persuade you that your not insignificant £50,000 should be spent with them instead of Audi, Mercedes-Benz or any of the other very talented cars here? Have they done the right thing by calling this car a Mustang? Is that badge enough to sway you, or does it put you off?
In our opinion, this car is a winner, although it isn't perfect. Far from it. There are still areas of build quality that should be better at this price point for a start. And it doesn't drive with the same panache and balance that we have come to expect from Ford. Perhaps the killer blow will be dealt with the yet-to-be-driven GT variant. Even so, for the moment, it doesn't "wow" you with its dynamic ability.
But all of that aside, like it's big, V8-engined Coupe brother, this is part of the charm with it. It has character, and all the best characters have flaws. This isn't a car that you buy with your head, but one you buy with your heart. And in our view, it's a worthy addition to the Ford stable, and one that deserves to wear the badge with pride.
Other AUTO

EV

Electric Car reviews
Here a selection of other reviews Auto EV have created that you may find of interest
HYUNDAI KONA V'S VAUXHALL MOKKA E
Mini Electric | Review 2020