Mazda MX-30
Mazda's first production electric car, the Mazda MX-30 has been revealed at the Tokyo Motor Show. With it's unique suicide doors and a 35.5kWh battery giving a range of approximately 125miles, which greatly exceeds the 30 mile average daily drive of the European customer!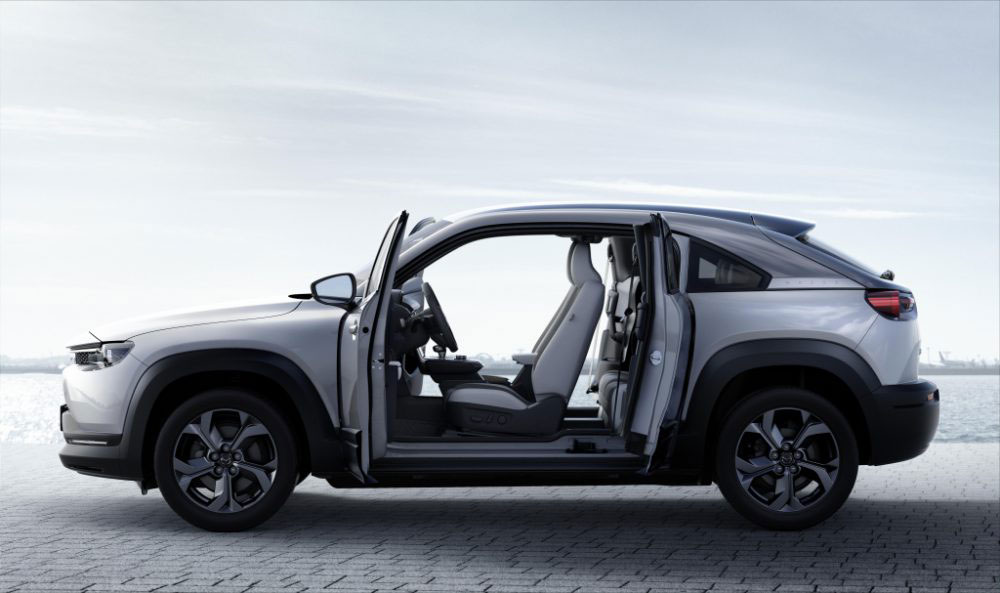 Commenting on the premiere of the Mazda MX-30, Yasuhiro Aoyama President & CEO of Mazda Motor Europe says "As with all our products, our designers and engineers had a very clear goal for our first battery-electric vehicle. It had to have stand out design, be great to drive, something that is key part of Mazda's DNA and makes us unique when compared with competitors, and most importantly, make a positive contribution to reducing emission across the entire life cycle of the product. Alongside the electrification technologies we are introducing across our range, being a smaller manufacturer we focused all our efforts on creating an electric car that we anticipate will be a second car where the range of our vehicle will meet customers' needs". Clearly, Mazda are planning on entering the EV market with a solid car that is meant to sell in large units, which is reassuring as far too many companies enter the industry with sub par EVs.
The battery has been designed to be rigidly integrated into the vehicle body structure which enhances the overall body stiffness and provides excellent response to the driver's input. In addition, given the importance of sound to a drivers' perception of torque and speed, the Mazda engineers have also created an electronic sound system inside the Mazda MX-30, which is synchronised to motor torque in sound. This leads to less variation in vehicle speed resulting in a very stable driving feel.
The cabin has a sense of seamlessness, flowing from the top of A pillar to the rear end. The suicide doors give the Mazda MX-30 a distinctive and elegant cabin silhouette, as well as providing customers with easier access to both the front and rear seats. In the interior, Mazda are introducing eco-friendly materials and are replacing real leather with a vegan alternative. There is also environmentally sourced cork featured in the floating centre console which provides a creative storage space.
The Mazda MX-30 will be available now for pre-order in multiple EU markets and will touch down on the tarmac during the second half of 2020!