Triumph TE-1
As we are about to see in our in-depth interview with a certain Mr Charley Boorman in the next issue of the AutoEV magazine (coming soon), motorbike manufacturers have been way behind the curve of adopting and developing EV powertrains.  Away from some of the lesser well known brands, it's really only Harley Davidson that has embraced the electric revolution with its Livewire model, and even then, as Charley mentions, who expected that from them?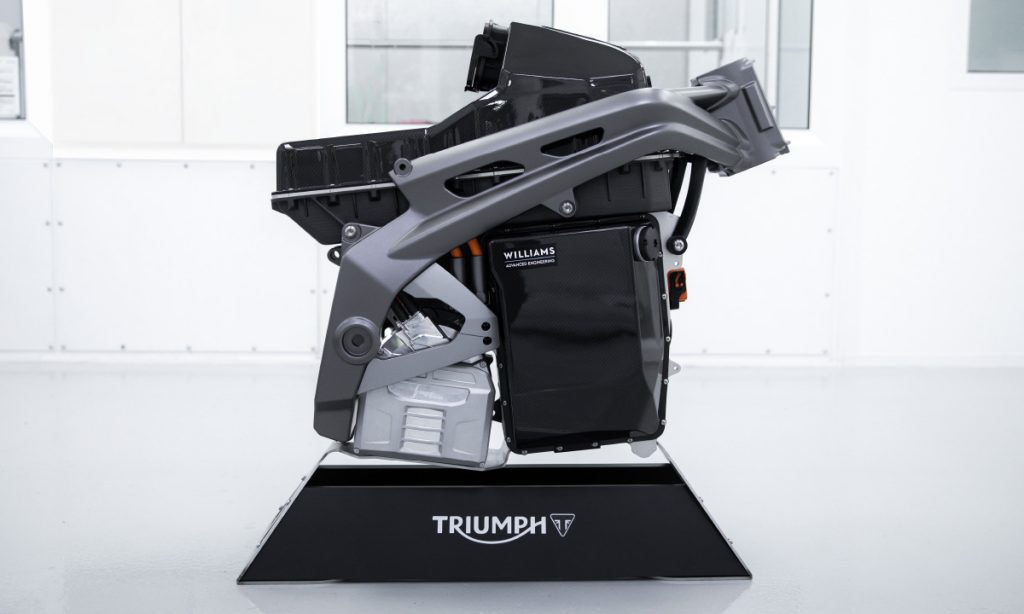 Well things might be about to change with one of the biggest names in the business, Triumph, showing their hand with a little help from Williams Advanced Engineering.  Triumph's TE-1 project will, according to WAE, "set new standards for electric bike performance, with class-leading power, efficiency, charging time and range".
WAE have been wholly responsible for the TE-1's lightweight, ground-breaking battery system, employing what they describe as a holistic approach to development which will allow the rider to use more electric power for longer, alongside rapid charging times.
A collaboration between Triumph Motorcycles, Williams Advanced Engineering, Integral Powertrain Ltd, and WMG at the University of Warwick, the TE-1 project started way back in 2019 and has been focused on developing specialist electric motorcycle technology and innovative integrated solutions.
Ok, that's all well and good, but what about some numbers?  Well, the battery has a peak power of 170kW and continuous power of 90kW with a capacity of 15kWh.  This allows the 'bike to deliver 130kW of peak power and 80kW of continuous power.  The 360 volt system will also allow fast-charging to give 0-80% capacity in under 20 minutes.  No range figure has been published, except to say that it will be class-leading.
What is impressive is the approach to developing this with the aim of performance above all else.  Dyrr Ardash, Senior Commercial Manager at Williams Advanced Engineering, says "Additionally, we have pushed the limits of performance by balancing the battery for acceleration and range, with simulations modelledon track-based riding.  In other words, as aggressive as possible."  He goes on to say, "What's more, we have also reduced mass and optimised frame position to benefit handling too."
As we have seen in the four-wheeled world, when someone like Porsche brings out a game-changer like the Taycan, people take notice.  Maybe now Triumph, with a little help from Williams, will create a similar reaction from the 'bike world.