Audi e-tron Sportback
Audi has delivered 18,500 of its e-tron since their launch in March 2019, which is impressive! However, the news today is that Audi has just released their all new e-tron Sportback, the coupe derivative!
The new Audi e-tron Sportback is described as a "dynamic SUV coupé", with a sloped roofline flowing into the steeply raked D-pillars, the e-tron Sportback is the electric SUV in the Audi range for those who want a little more of a sporty appearance to their family car! The interior styling is typical Audi, large screens and lots of lovely materials which ooze luxury!
Performance wise, the Audi e-tron Sportback is pretty impressive. It comes equipped with 300 kW of power and a range of around 240 miles out of a 86 kilowatt-hour battery pack, keep in mind the standard e-tron gets a range around 220 miles, and the new Sportback is getting a claimed range of 240miles, due to the increased aerodynamics, sporting a drag coefficient of just 0.25! The respectable 561 Nm of torque helps get the hefty SUV up to 60mph in under 6.6 seconds, which isn't crazy fast, but is still a very quick figure for such a large luxury vehicle!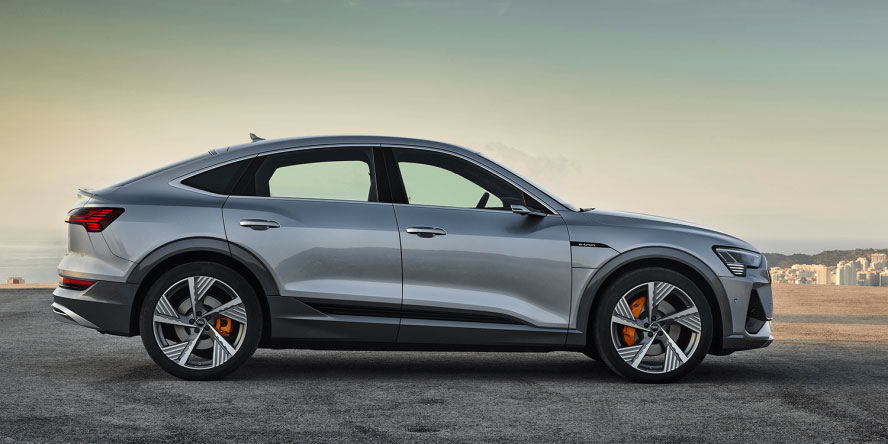 The e-tron Sportback is expected to be introduced onto European roads is for the spring of 2020, so not too long to wait if you're looking to get behind the wheel of one! The base price of the Sportback is 71,350 euros, we are yet to find out the pricing for the UK, so keep an eye out for more info!